These are a series of sprites and 3D models for Pac-Man Ghost Zone, a cancelled Pac-Man game for the PSX eventually reworked into Pac-Man World. The assets were donated to Gaming Alexandria by former Namco artist Bernie Bernstone, who sent them to us for inspection. Bernie has also released several videos made during Ghost Zone's development via his YouTube channel.
The models are viewable using any previewing tool for 3D models. I used Neosis by Rich Whitehouse, which you can download here.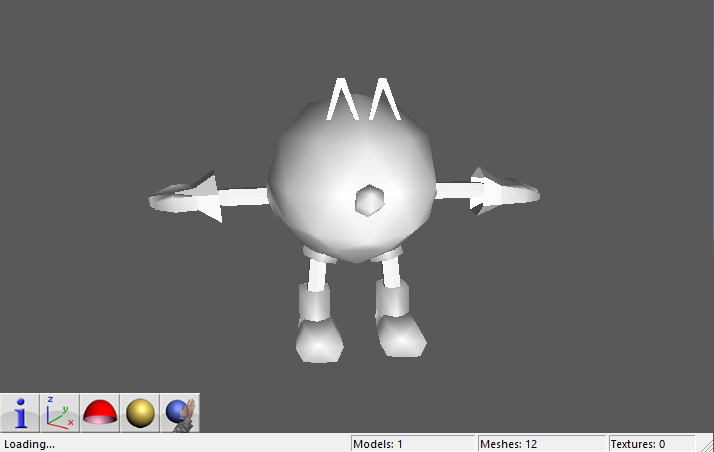 The assets can be downloaded here.
Special thanks to Bernie Bernstone, John Hamilton and Scott Rogers for providing help in researching these materials.
[Thumbnail courtesy of Jamara Lenard.]
Game Details
Pac-Man Ghost Zone started life as one of the many ideas conceived at Namco HomeTek, the home console division of Namco America. In 1996, HomeTek's design team proposed several game ideas for the upcoming PlayStation 1, such as a murder mystery game, an action-adventure entitled Outbound, a JRPG starring classic Namco characters, a space-based FPS entitled Xenocon and a platforming game starring Namco's right arm entitled Pac-Man Ghost Zone.
Each one of these ideas got pitched to Yoshinori Homma, who was the president of Namco HomeTek at the time. After a few moments of thinking, Homma-san stood up and asked, "Which one do you want?"
"Xenocon," replied Scott Rogers, one of the members of the HomeTek design team.
"No, work on a Namco game."
After a few weeks of retooling, Rogers and the rest of the Hometek design team had another meeting with Homma-san. Once again, he asked, "Which one do you want?"
"We want the JRPG."
"No, make the Pac-Man game."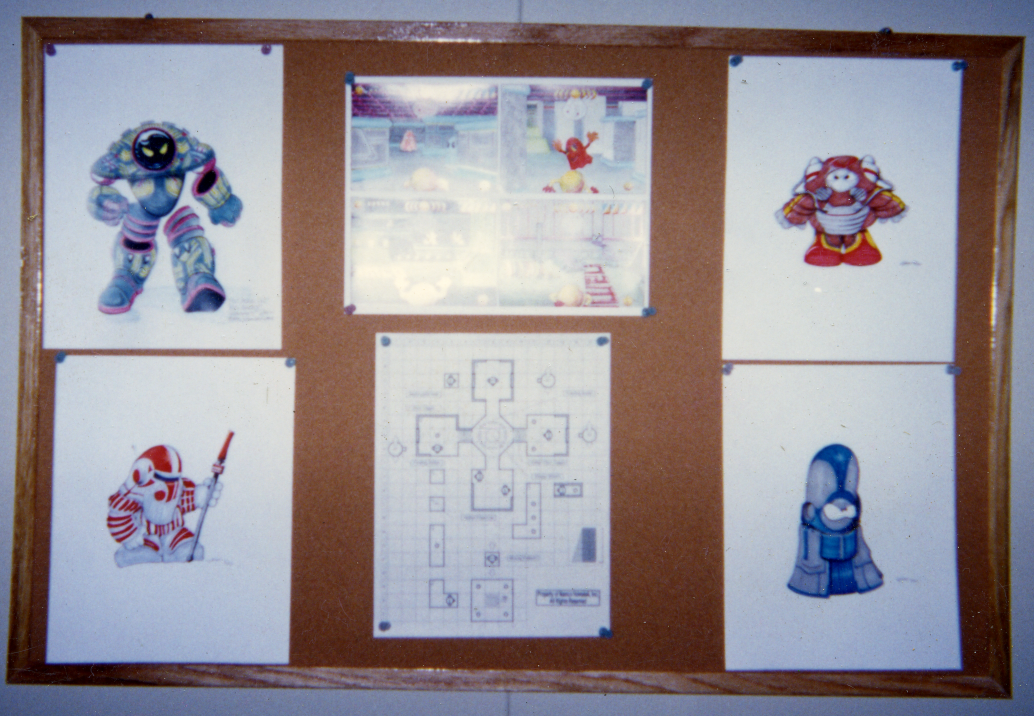 Pac-Man Ghost Zone would soon begin development under designer William Anderson, as well as some input from Rogers and Dave Shelly. The game followed the story of a teenager getting sucked into an arcade cabinet (à la Tron) and turning into Pac-Man. The teen must escape the cabinet by going through 14 different worlds and defeat the evil ruler of the ghosts — the Ghost Lord. Namco did not allow Hometek to use "the REAL Pac-Man" in their game, so the team decided that the lead was someone turned into the character.
The original development team on Ghost Zone consisted of many different people, some veterans with a long careers in the industry and some straight out of school. On art was Kenn Nishiuye, Dan Sukiennik, Maurine Starkey, Neil Strudwick, Rick Lucey, Julian Moran and Bernie Bernstone; on programming was John Stanley and John Hamilton; on music was Tommy Tallarico. Gil Colgate would join the programming team later in production.
In mid-1997, after a few appearances in magazines and trade shows, William Anderson, Scott Rogers and a few other HomeTek members presented a Ghost Zone demo to Masaya Nakamura, the then-president of Namco. According to Anderson in a 2014 blog post, Nakamura-san loved the concept but dispised the actual game, storming out of the room and swearing after seeing the gameplay. The group quickly got escorted out of the building.
Despite the negative reaction, Nakamura-san allowed the game to continue, but slashed the development schedule in half, leaving the game to be rushed. Nearly all of the Hometek staff was fired (some without their promised $10,000 bonus) and after a second meeting with Nakamura-san, Ghost Zone was cancelled. The game would be reworked from scratch with the few remaining staff members — designer Scott Rogers, programmer Gil Colgate and artist Neil Strudwick — under entirely new management. This improved version would be released in 1999 under the new title Pac-Man World.
"[Ghost Zone] didn't have its own identity. It wasn't Pac-Man — it was a yellow guy inside of a mechanical world that didn't make sense."

~ Brian Schorr, Namco Producer
Since its cancellation in 1997, a single prototype of the game has emerged. As of the time of writing this, it has yet to be released online.
While we do not have a ROM of Pac-Man Ghost Zone (yet), these assets give us a little peek of what the game could've been. Models for Pac-Man, bosses, enemies, items and even level layouts are available in the files. Thanks again to Bernie Bernstone, whose contribution to the preservation world made this release possible!
Download
Download the assets here.