(If I had a nickel for every time we helped release an unreleased Nintendo DS game about blobs, I'd have two nickels. Which isn't a lot, but it's weird that it happened twice.)
Here is de Blob, an unreleased Nintendo DS title from THQ intended to be published alongside the Nintendo Wii game of the same name. Scheduled for release in February 2008, the DS port was being developed by THQ's handheld division Helixe but was cancelled shortly into development.
On January 15th, 2023, popular animation YouTuber RebelTaxi revealed on Twitter that they had an early build of the lost de Blob port in their possession. The YouTuber was given the ROM by an anonymous individual with a connection to Helixe, and it sat in his possession for years. RebelTaxi admits he nearly forgot he had it.
The prototype is an incomplete debug build. It contains three levels, and only the first one is fully polished. It is unknown where on the timeline this build is from, but it's a safe bet to say that it was close to the game's cancellation in November 2008. This article is in collaboration with RebelTaxi, who has recorded the first-ever long-play of this unreleased game. We highly suggest you give it a watch!
The ROM can be downloaded here.
Special thanks to RebelTaxi and Kurt Bickenbach for providing help in the research for these materials.
Game Details
de Blob, a game that would eventually sell more than 700,000 copies worldwide, was born out of a small student project in the Netherlands. In the early-00s, eight Dutch students researching game development at the Utrecht School of the Arts — as well as one programmer from Utrecht University — were commissioned by the city to make a game about the local railroad station. Utrecht was planning to renovate the area; roads would be replaced by canals, and empty spots of land would become cinemas and casinos. To inform the city about what it would look like in the next ten years, the students would design a game about the new station. An energetic, colourful game intended for quick play was required to make people engaged. You need the fun, you need the information, and, of course, you need de Blob.
de Blob stars Blob, a silent splotch of colour who's painting the futuristic city of Utrecht red. The goal of the game is to colour all seventeen landmarks of the city. On your way around the city, you can paint buildings, cars, trees, and, with the trail of colourful slime behind you, the Earth. You can grow in size and mix colours by absorbing people of colour (red, blue, and yellow) off the streets. There is also an optional side mission to collect the fifty hidden coins across the map. There is no timer in de Blob, and the player is free to roam around as they please — you only have to colour about a third of the landmarks.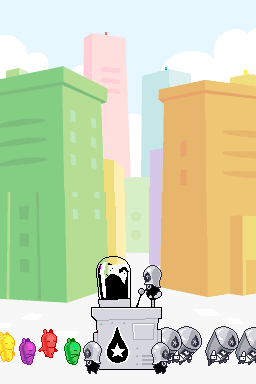 After its success in Utrecht information centers, de Blob was eventually released as a freeware PC game. This was when the game start garnering attention across the internet. In 2006, de Blob was named "Internet Game of the Year" by Edge Magazine, and in 2007, it became a finalist in the Slamdance Guerrilla Gamemaker Competition. The game eventually caught the eye of publisher THQ, who bought the rights from the Dutch developers to develop ports for the Nintendo Wii and DS. To appeal to a wider audience, multiple elements of de Blob were changed for consoles. Utrecht became the fictional city of Chroma; a faster-paced, more challenging level of gameplay was introduced. The Wii version was handled by Australia-based studio Blue Tongue Entertainment, while the DS port would be done by THQ's handheld division Helixe.
"With de Blob's innovative control scheme, a swing of the Wii Remote or flick of the DS Stylus sends Blob ricocheting and swinging through the city with splashes of colour in his wake," Steve Dauterman, THQ's senior vice president of product development, announced in July 2007. "Gamers will be able to liberate the lifeless city of Chroma and create a collaboration of energy, music and colour that is a reflection of each player's gaming style."
Helixe was founded in Massachusetts in July 2000 by developers Rafael Baptista and Kurt Bickenbach. Bickenbach began his career as an artist at Looking Glass Studios, working on best-selling titles like System Shock and Flight Unlimited. In 1996, he left Looking Glass to co-found GameFX, an early game company developing hardware-accelerated games for the PC. In 1999, Baptista, a programmer from the medical science world with no prior game experience, was hired by GameFX to implement Al and control systems for Sinistar: Unleashed, a remake of the 1983 arcade game by Williams. That game would be published by THQ, who bought the company in April 1998.
Still working at the company, Baptista and Bickenbach began experimenting with different consoles, including Nintendo's Game Boy Advance, which was not yet released in North America. "We liked the [GBA] the best," Baptista told the French website Nintendo Power in April 2002. "It was the most fun to program. And we thought it was so cool to see a game running on the tiny little screen. The original AGB dev kit was not portable, but a large circuit board almost as big as a sheet of paper. We were even more excited when we first got a prototype GBA that was in the actual case. It was even cooler to see that little screen floating around in your hand."
"We were working on a game engine, and got pretty far with it. We showed it to some people at THQ and they really liked it, so they asked us to quit [GameFX] and start our own internal game studio."
Helixe's first title, Rocket Power: Dream Scheme, was developed by a tiny team of four and would be released in November 2001. The company quickly expanded into three internal divisions, hiring more staff to work on more titles at a faster rate. By 2006, Helixe had moved from the GBA to the Nintendo DS. Most of their library at that point was licensed games for Disney/Pixar films like The Incredibles, Cars, and Ratatouille. The DS port of de Blob, which was added to Hexile's webpage in August 2007, stuck out like a sore thumb.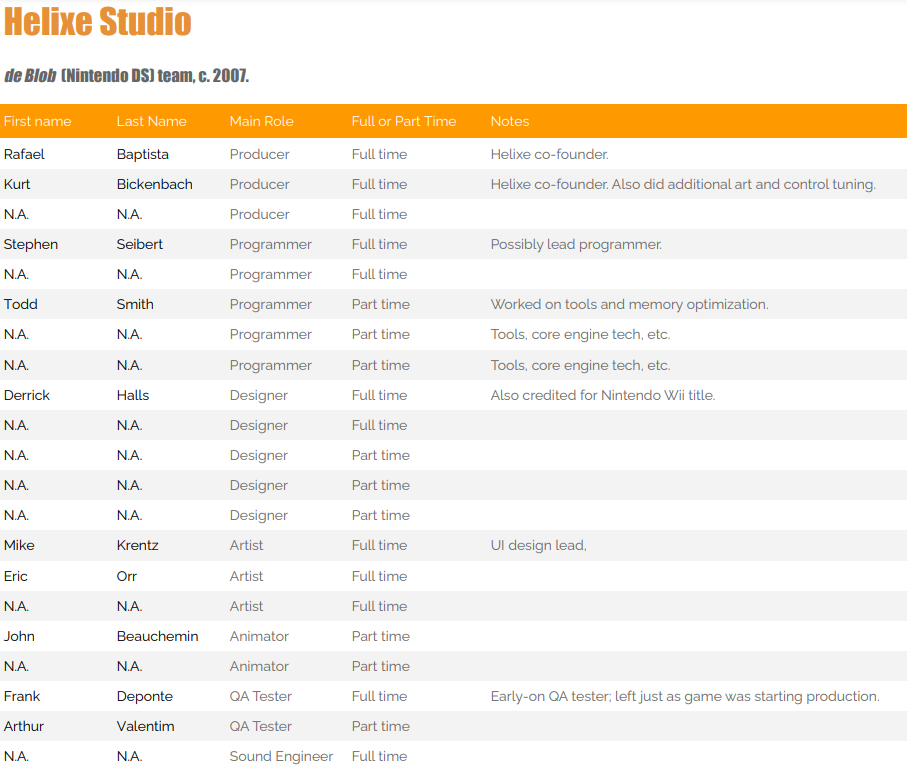 "THQ's director of global development asked [Helixe] to talk with Blue Tongue and decide if it was something we wanted to work on," Kurt Bickenbach recalls to us via LinkedIn. "We were both internal THQ studios at the time. [de Blob for the Wii] was about a year away from being completed when we started on it. We liked what they had and thought it would be a good project to push our game engine to create a larger, open-world-like environment. So we started working on the DS version of the game while communicating with the Blue Tongue team.  We couldn't port a game like that to the DS due to the hardware limitations of the DS. we had to make quite a few changes to the gameplay to make it work with a touch screen."
Very little is known about the development of de Blob on the DS. It missed its initial deadline for February 2008 and was in production for, at most, 16 months. The port was never rated by the ESRB, giving a hint that it was never actually completed.  The game was developed by a team of roughly 20 people. Known staff included Rafael Baptista, Kurt Bickenbach, designer Derrick Halls, programmers Todd Smith and Stephen Seibert; artists Eric Orr, Mike Krentz, and John Beauchemin; and testers Frank Daponte and Arthur Valentim. According to Bickenbach, the lead programmer left the project about two-thirds of the way through, causing a three-month-long delay.
de Blob was in its final stages of development before it was cancelled, only needing 4-8 weeks of testing before being able to ship. On November 3rd, 2008, Helixe was one of five studios closed in a series of mass layoffs at THQ. In the press, THQ CEO Brian Farrell blamed the layoffs on "both changing market dynamics within the video game sector and the impact of today's difficult economic environment.
All of Helixe's projects were scrapped, and much of the remaining staff jumped ship to form their studio, DoubleTap Games, in the following weeks. Blue Tongue Entertainment was able to survive the THQ massacre, and the Wii version of de Blob they were developing was still able to ship. It was released in September 2008 to critical acclaim. A sequel, de Blob 2, would soon follow in February 2011. That game would be Blue Tongue's final project before being shut down by THQ as well. This time, Brian Farrell said it was done to "focus on high-quality owned IP."
Interestingly enough, de Blob 2 would see release on the Nintendo DS, despite the first game never getting released on store shelves. The port was handled by Halfbrick, the Australian studio behind Jetpack Joyride and the Fruit Ninja series. It can go without saying that handheld gamers searching for the original came out empty-handed — hopefully, this one-of-a-kind prototype paints a picture of what could've been.
Download
The ROM can be downloaded here.