Here is The Sacred Pools, an unreleased FMV game by Sega planned for release in 1997. The game was a new arrival to the FMV market that was pushed as an "erotic thriller" for older audiences. With a reported budget of 2-3 million dollars, Sega's new division SegaSoft aimed to expand the experiences available on Saturn, PC, Macintosh, and PSX(!). Although Sacred Pools made a legendary debut at E3 1996, the press panned the game for its quality and it was quietly pushed aside to never be heard from again.
For years, all we knew about Sacred Pools came from a few surviving blurbs in gaming magazines. Rumours of a prototype have circulated on the internet, but no photos or files ever appeared. In May of 2022, Gaming Alexandria was informed by Joe Cain, avid game collector and former game tester at Sega of America, that an old colleague had several CD-ROMs of Sacred Pools in their possession. The colleague was David Gray, who worked as an associate producer on the game alongside high-ranking members of SegaSoft.
The discs were given to Gray as a parting gift in 1999 during the final days of SegaSoft which contained alpha builds for the Sega Saturn, Windows, Macintosh, and Playstation. In his possession for over 20 years, all discs were thankfully still intact and were easily ripped using ImgBurn. 
The discs can be downloaded here. It contains curated versions of the Sega Saturn, PC, Macintosh, and PSX ports that are playable in any emulator. (CORRECTION: The "Mac" version was incorrectly labelled. It actually related to VCDEMU, the Saturn SDK tool used for emulating disc drives.)
Special thanks to Joe Cain, David Gray, Mars Lasar, Mark Kirkby, Josie Lewis, and Marc Dawson for providing help in the research for these materials.
Game Details
1995 was a disastrous year for Sega. Their new console, the Sega Saturn, was prematurely released at E3 that year as an attempt to combat Sony. The limited number of units and launch titles resulted in poor sales — it didn't help that the PlayStation, released the same year, was $100 cheaper. Retailers were furious, and executive infighting at Sega was at an all-time high. The goodwill Sega built up in the early-90s was slowly wasting away.
Some believed that Sega was looking at the wrong platform. Chairman Isao Okawa saw a future for Sega in home computers. In November, Okawa announced that an independent studio would open to focus on the Internet and the World Wide Web. This new venture, SegaSoft, was formed in the US to play in the country's entrepreneurial climate. Nobuo Mii, a former IBM executive, would serve as CEO, while Joe Miller led research and development. 
Joe Miller had previously served as VP of Product Development at Sega of America. An industry veteran who had worked for Atari and Epyx, Miller was one of the few early SegaSoft members with experience in video games and was instrumental in keeping the studio on track. "At the time, it was a good-looking benchmark for a young company that had the ability to make its own decisions quickly about which titles to develop, how to invest its capital, how to go about selling its products with its own sales force in a way that was new for Sega," Miller told Sega-16 in 2013. "That was why we formed SegaSoft."
SegaSoft opened its doors in February 1996 in Redwood City, California. The company had much more freedom as an independent branch under Sega of America and CSK Corporation. Games could be more free-spirited, cross-platform, and adult. SegaSoft didn't need to focus on the children and could develop software on whatever they liked — even on competing platforms like the PSX. This was how titles like Sacred Pools could happen. 
"If you crave mystery, power, and seduction, step into the world of Sacred Pools," read SegaSoft's original press release. "The once secure, safe, and beautiful island of Amazonia is now a land of temptation and danger. […] Sacred Pools exploits today's technology creating a new level of gameplay so unreal you have to feel it to believe it."
Sacred Pools — also known as Rebellion and Amazonia — was a late addition to the full-motion video craze of the early-90s. Games with video elements had existed since the early-70s, but the peak fever didn't occur until the introduction of CD-based consoles like the 3DO, Phillips CD-i, and Sega CD. Sega had always been interested in the genre, and many within the company believed that merging film and games was inevitable. Joe Miller had been thinking about FMV games since his time at Epyx and Sacred Pools was — by most accounts — his baby. 
Development began around early 1996. Miller would be an executive producer on the project alongside writer/director James Riley. In addition, SegaSoft members Michael Latham, Tony Van, and David Gray served as smaller producers under Miller's umbrella. In conversations with Gray, Latham recalls Sacred Pools having a $2-3 million budget. It is unsure whether that money was for the entire project (development costs) or the film production. Either way, it was a massive amount for its time. Sacred Pools was an expensive game.
The game's story revolves around the mystical sacred crystals on the far-off island of Amazonia. The island was once a safe area but has now become a dangerous spot littered with lust and desire. On your way to the titular sacred pools, you'll encounter a plethora of far-out sci-fi enemies, who you'll need to navigate past to get to the crystals.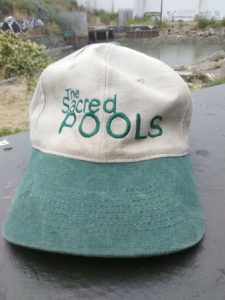 Although the game featured many scantily clad women, none of the footage contained any fully naked bodies (and certainly no "hardcore sex scenes," as some websites claim). Sega of Japan actually announced in August of 1996 that no future Saturn games would feature nudity of any kind. 
"There was no nudity, although the costumes did get a bit racy." Steadicam operator Ross Judd told Electronic Gaming Monthly in 2000. "The director [James Riley] had never shot a film before — but he had an interesting vision and had sunk his last dime into [Sacred Pools]."
James W. Riley got his start in Hollywood in the late-70s, doing visual effects for films like Star Trek: The Motion Picture and the animated Lord of the Rings adaptation by Ralph Bakshi. Riley jumped to video games in the early-80s when he collaborated with Nolan Bushnell on developing live-action interactive applications for advertisements and games. In 1986, he got introduced to Tom Zito, the VP of Marketing at Bushnell's new company Axlon who was working on a videotape system for Hasbro — codenamed NEMO.
Zito wanted Riley to help create some demos for NEMO that could demonstrate what a live-action "movie game" could be. Riley wanted to avoid the seamless branching in other interactive applications, where the player would finish one scene and hop to the next.  He pitched Scene of the Crime: a game about a wealthy millionaire protecting his riches and hunting thieves through an advanced surveillance system. Hasbro was thrilled by the concept and funded a company called Isix to develop more fully-fledged games in that style. 
NEMO got scrapped in 1989 in fear of its high retail price. The rights to all of Isix's games got sold to Zito's new company, Digital Pictures, and eventually found their way to the Sega CD. Scenes of the Crime was the spiritual predecessor to Night Trap, released in late 1992. Night Trap was a game that very much informed the creation of Sacred Pools. Both are slightly risqué, ambitious — albeit corny — FMV games with a mixed reception in the press. Night Trap was infamously present at the United States Senate hearings on violent video games in December 1993. Senator Joe Lieberman called it "a violent and offensive game" that should be taken off the market.
The game sold 50,000 copies the following week after the hearings.
Digital Pictures became one of Sega's top developers on the Sega CD, creating multiple original games including Sewer Shark and Double Switch. The success — and different visions — they had of FMV prompted Sega of America to start a studio of their own. 
Sega Studios LA would open in Beverly Hills, with Christopher Bankston as the video game and film producer. Bankston was a close friend of Joe Miller since their time together at Epyx and a perfect fit to run the operation. He studied filmmaking in college and strongly believed in FMV as far back as the late-80s. Bankston joined Sega in 1992 and would oversee over 500 production members at Sega Studios, including James Riley who was picked up from Digital Pictures to write and direct some of their games: Wirehead, Surgical Strike, and Sacred Pools.
In addition to Riley and Bankston, the production staff on Sacred Pools was a colorful group of Hollywood veterans. Molly Maginnis, an award-winning costume designer who had previously worked under directors Rob Reiner and James L. Brooks, would develop abstract sci-fi outfits for the actresses. The cinematography was handled by Robert Primes, a decorated filmmaker who got his start in the late-60s, with credits on everything from Gilligan's Island to The X-Files. Nina Gilberti, who had won an Emmy in 1996 for her work with The Walt Disney Company, would serve as the game's editor alongside Kate McCowen. (Kate McCowen has no other credits.)
Finally, music was composed by Mars Lasar, a German-born musician known for his ethereal, new-age style. Lasar was relatively new to video games and often recorded his songs in a field to add an extra "sound-design" element. "[Video games] were particularly interesting to me," Lasar tells us. "I would take the sounds from the location shoots, mash them up into the soundtrack, play the sound effects on my keyboard and add them into [Cubase]."
SegaSoft produced the game, and Sega Studios LA did the filming. Someone still needed to do the programming, and The Code Monkeys filled that position. Founded in 1988 in Dewsbury, England, The Code Monkeys was a tiny British developer specializing in ports. Their first contract was converting The Games: Summer Edition to the Atari ST and Amiga. Chris Bankston, who worked on the original Commodore 64 version at Epyx, was impressed with their work and kept in touch with them until his time at Sega Studios. 
When brought on to Sacred Pools, The Code Monkeys were already well-versed in FMV games, having completed Surgical Strike and Tomcat Alley for the Sega CD — the latter of which eventually got bundled with the add-on. The footage was typically sent to them via DAT tapes sent overseas from Beverly Hills, which were then converted to the correct format for FMV playback and put into the game. 
Development at The Code Monkeys took around 3-6 months. Mark Kirkby and Colin Hogg would serve as the lead programmers, while Josie Lewis would do all of the artwork. "At that time, we had recently moved offices to a larger floor in the complex," Lewis revealed. "So to help out, the footage for [Sacred] Pools was edited on two Betacam machines and compressed using a bank of three machines and about fifteen SCSI drives. They were left running constantly, mostly with the PC cases off and desk fans aimed at them to keep them cool."
In May of 1996, SegaSoft made a splash at that year's E3 in Los Angeles. The company's premier title, Three Dirty Dwarves, launched at the show, while Sacred Pools made its public debut. A non-playable video demo played on a loop, and anyone near the booth who decided to watch got handed a small plastic marble. These marbles were meant as "clues" and worked as tickets to a lavish Amazon-themed party SegaSoft was holding.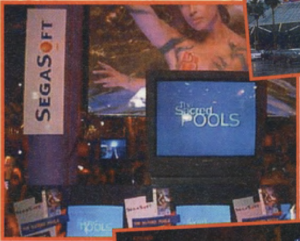 The party began around 9:00 pm on Friday, May 27th. Actors spoke in fake languages, performers swung in the air, and the alt-rock band Hole played a private show the entire night. There was a VIP lounge and actresses from the game gave autographs. It wasn't a strictly closed event; several people could sneak in from a single invite. 
Despite all of this, SegaSoft still couldn't win the press. The FMV genre started to fizzle out in 1996 and many critics saw it as something too late to the party. Internal testers at Sega were also not kind to the game, viewing the test builds they received as dull and unenjoyable.
The oversaturation of FMV in the mid-90s gave the genre a bad reputation. More products of lesser quality were coming out and big wheels in the business (like Digital Pictures' Tom Zito) began questioning if this was the end. Chris Bankston believed the consumer could not relate to FMV like other games. "The use of a live actor makes it more difficult for the average player to assume the identity of the hero, as opposed to a fictional art character," Bankston told FMVWorld in 2007. "From my experience at Sega, I know that everyone from executive management to the entire marketing department believed that FMV had the potential for a strong lifespan. I believe that the consumers/players were the ultimate reason that FMV did not catch on."
Marketing was building up; interest was dying down. Joe Miller, who believed in Sacred Pools the most, was beginning to see the cracks. After E3, the game repeatedly missed its release date and quietly disappeared from the schedule by mid-1997. SegaSoft had given up on the game, and no amount of money or parties could fix it. 
"[Joe Miller] pushed hard for [Sacred Pools] until the game started coming together. Blind conviction, cart before the horse, et cetera — choose your favorite analogy."

— David Gray, associate producer, SegaSoft
Sacred Pools would be Miller's final project at SegaSoft. Difficulties with producers who had little video game experience forced him to leave the company in January 1997, ending a five-year-long run working with Sega. That same year, Sega of America's new president, Bernie Stolar, closed the curtain on Saturn development as he believed the system was no longer the company's future.
SegaSoft was brought back under Sega of America's control. They no longer could develop cross-platform games — one of their original goals — and received fewer in-house projects. Many producers left, and the studio was a shell of its former self. SegaSoft turned into Sega.com, eventually being bought by Nokia in August 2003. Some of the team jumped ship to Nokia, while the others folded back into Sega of America.
Chris Bankston would leave Sega following the decline of FMV and Sega Studios LA. He co-founded Stealth Multimedia, which worked on short films, games, and music from 1995 to 2003. He would even executive produce albums for Mars Lasar, the composer of Sacred Pools. Bankston is currently an educator at San Jose State University, where he teaches environmental science. 
Sacred Pools was James Riley's final directorial effort, as he would leave video games to focus on television. Since 1998, he has been the visual effects supervisor at Stargate Studios, a production company that has worked on shows like Shameless, The Office, and Our Flag Means Death. 
Joe Miller would go through multiple companies following his departure from Sega. He founded Perilux, the design company that helped create the educational Leapster system. Later, he was the VP of Platform & Technology Development at Linden Lab, the team behind the virtual world of Second Life. Unfortunately, his life was cut short. Joe Miller passed away from stomach cancer in July 2014 at age 60. Sacred Pools was a mere blip in his career but his influence in the video game industry is still felt to this day.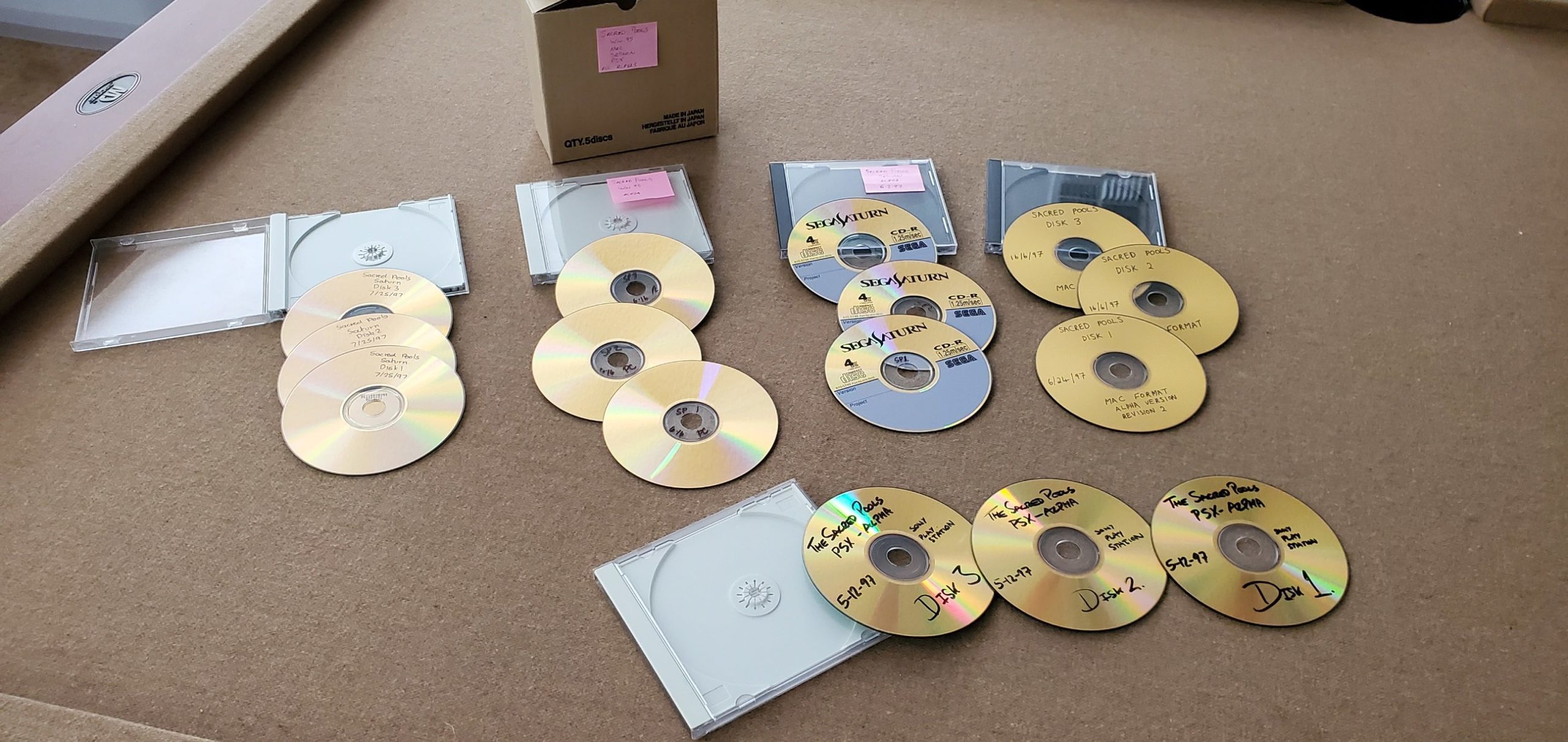 Sacred Pools is a strange, ambitious misfire that could only come from a 90s FMV game. Some things surprisingly hold up. The video footage you see is well-shot and the set design and costumes are something to behold — the multi-million dollar budget really shows. In the press, SegaSoft toted the game's VNRS technology ("Virtual Navigation in Real Space"), which allowed seamless 3D movement in FMV environments. There is not much information about VNRS (for all we know, it could just be marketing mumbo jumbo) but you can see a crumb of it in gameplay. There are hardly any cuts in Sacred Pools. When you have to make a turn, the camera follows your POV. It often does feel like 3D. 
The focus of the game is exploring the mazes littered across the world. You get few clues as to where you should go, and you'll often end up at a dead end, lost, face-to-face with an enemy. You watch the camera trudge down the wrong way and then watch it reverse. The mazes make the game feel extraordinarily slow at times.
When Gaming Alexandria was first made aware of the Sacred Pools discs, we were given a warning for what we were about to see (David Gray said, "Have mercy on my soul" after sending us the files). In all honesty, while the game is often confusing, there are some things to appreciate here. It's no more cheesy than any other FMV games Sega put out, like Night Trap, Wirehead, or Surgical Strike. 
Sacred Pools is a lost relic from a long-gone era of Sega. It is a look into an alternate universe where the company put out games for adults — and on the PlayStation!
We think there is something to appreciate about that.
Download
All versions of The Sacred Pools can be downloaded here.