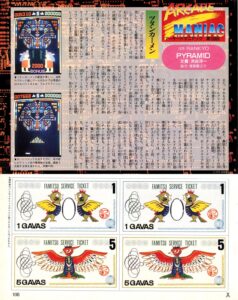 Article Translated to English by Tweakbod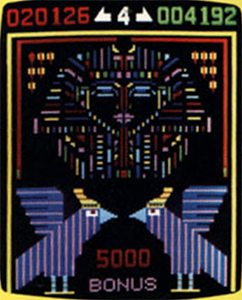 This is the 5000 point Hawk Bonus. The U-shaped perimeter wall surrounding Tutankhamen is made up of segments that change colors when hit by the ball. There is a sequence of 5 colors ending in red. So in order to get the Hawk Bonus you need the ball to hit every segment 5 times.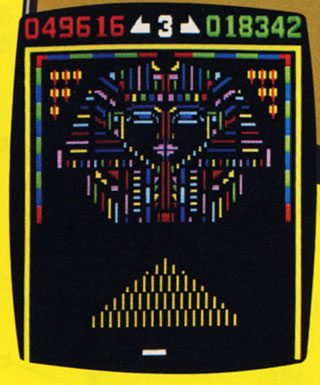 Every time you get the 1000 point bonus for dropping the ball down Tutankhamen's nose and into his chin, a new section of pyramid is added to the bottom of the screen. This screenshot shows the full 4 tiers. The other bonus points such as when you hit all the cobras, probably also add tiers to the pyramid.
---
Magazine – Game Machine No. 129 – Oct. 15, 1979 (page 21)
Article – Sankyo's Pyramid Breaks New Ground
Article Translated to English by Tweakbod
Sankyo Co., Ltd. (Headquarters = Koraku 2-4-5, Bunkyo-ku, Tokyo, 811-9528, President Yoshio Ito) will release TS Pyramid, a new model of the company's TS series table TV game machine. The screen is made up of detailed, colorful blocks (some of which change color but do not disappear), centered on a beautiful and vivid image of Tutankhamen, and the ball is bounced at the image with a paddle, and when the ball enters the interior of the the image, it makes a unique motion that amazes the viewer. If you turn all six cobras in the upper left and right corners of the screen red, you will get a bonus score of 2,000 points, and if you make the upper enclosure box all red, you will get a bonus score of 5,000 points. Cute figures appear with each bonus, and a pyramid gradually forms at the bottom of the screen (from top to bottom), making the game more difficult. There are a total of five different colors. 6-digit score display, high score display, uses color monitor. List price: 600,000 yen.