Download 3156 Coro Coro Tape Image Here
Hello, Gaming Alexandria readers! It is me, Chris Kohler, former journalist, current game developer and forever fan of obscure old games. The good people at Gaming Alexandria have given me this space to make a fortuitous announcement: A long-lost Square game, previously thought to have been canceled, has now been located and preserved!
The game in question is a PC-8800 series title called 3156 Coro Coro, which is pronounced saikoro koro koro in Japanese, and means "rolling dice." It's a puzzle game in which you must roll a single die around a maze into a goal. It was created in 1985 by then-22-year-old Hiromichi Tanaka, who became one of Square's top creators, producing Secret of Mana, directing Seiken Densetsu 3, producing Xenogears and Chrono Cross, etc., etc.
While researching the early history of Square, which was founded in 1983 and produced primarily Japanese PC games for its first few years, I came across the title 3156 Coro Coro in a few lists of canceled Square games, with no information about it other than the fact that it had been canceled. But recently, I saw one Japanese website that noted that it had been created for the October 1985 "Program Olympics" in LOGiN magazine.
"Wait a minute," I thought. "LOGiN magazine? 1985? Why, Gaming Alexandria just scanned all of those!" Japanese vintage computer magazines are quite hard to find, very expensive when they are found, and hardly any of them are scanned. So it seemed like a great stroke of luck that this precise run of this precise magazine had just recently become available.
As it turns out, 3156 Coro Coro was not canceled, and was in fact released! The thing was, it was released as a type-in program—the sort of program whose source code is printed in the black-and-white pages at the back of computer magazines. Usually, these programs are created by individual users, but Program Olympics was a yearly feature where LOGiN printed original type-in programs created by the big software makers of the day. ("Big" here being a relative term, since in these early days, even makers like Square were fairly rinky-dink outfits.)
It wasn't just Square. In fact, this one year alone, LOGiN featured type-in games from XTALSOFT, Game Arts, Humming Bird Soft, Microcabin, Victor, Thinking Rabbit, T&E Soft, Tecno Soft, and Nihon Falcom!
Of course, having a type-in program in a magazine scan doesn't mean much of anything if you can't get it to run. The article accompanying the game notes that at 40K of machine code, it's definitely a big task to enter it all in. Also, it had to be saved to a cassette tape. (Hope you didn't mistype any numbers!)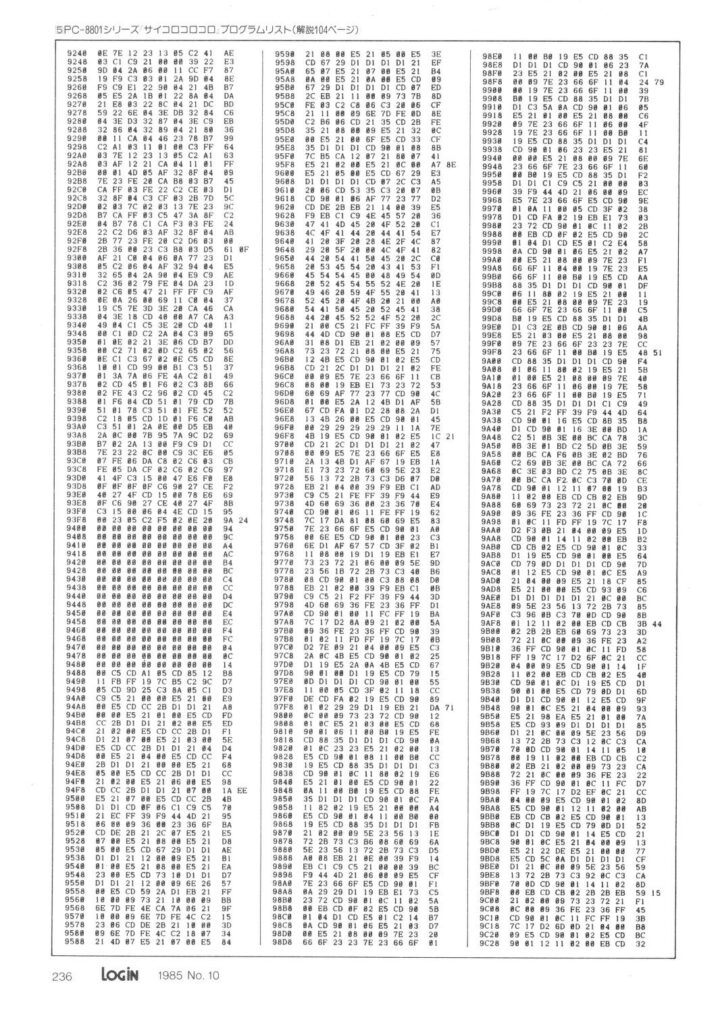 Fortunately, Gaming Alexandria's Dustin Hubbard is a man of considerable talents, since he figured out a way to cleanly OCR the code in the scan, then build a tape-format file that works in PC-88 emulators. (We recommend the version of M88kai in the Neo Kobe emulator package.)
Game Details
3156 Coro Coro is a puzzle game about rolling a single die. All you have to do is use the number pad (not the arrow keys!) to roll it from the starting space to the goal, which is shown as a black space and represented by a white square on the map on the right of the screen.
Here's the catch: The die can only roll onto spaces where the number on the bottom of the die is different than the numbers on the space. Each space on the board has some number of die faces drawn on it. If, for example, a space has a 1, 3, 4, and 6 on it, that means that to be able to roll onto that space, the bottom of the die would have to be showing a 2 or a 5.
To help you out, the sides of the die are shown on the top, bottom, left, and right of the board. These are the sides that will become the bottom if the die rolls in that direction. So if there is a 5 on the right side of the screen, and you press right, the 5 will end up on the bottom. If the space to your right has a 5 on it, though, the die will fail to roll in that direction—and you will lose a move! Run out of moves and you'll have to restart the level.
There are only 3 levels in 3156 Coro Coro. So it is a small game, although the levels are actually pretty difficult! I was able to get through the first two by randomly rolling around, although I still haven't beaten the third one yet.
To run 3156 Coro Coro once the tape is loaded in the drive (or, more likely, once the .t88 file is mounted in your emulator), first type
LOAD "CAS:"
and hit Enter. A BASIC loader will run. Once that's done, type
RUN
and hit Enter, and the tape should load up—it will take some time; you might try turning the Status window on in your emulator to see its progress—and the game will run automatically once it is fully loaded.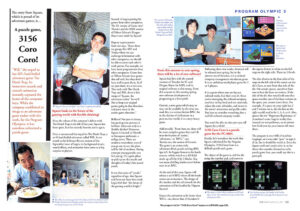 If you want to know more about 3156 Coro Coro or about Square during this era, a two-page feature on the company and the game ran in the October 1985 issue of LOGiN. To add more context to this release, I've done a quick translation of the article. (Please note: I am not a professional translator, so please understand that there may be some bits where I misinterpreted the nuance! Consider this to be for edutainment purposes only.)
What's interesting about the timing of 3156 Coro Coro's release is that Hiromichi Tanaka's first full retail release, Genesis: Beyond The Revelation (which was also Square's first RPG), came out in October 1985. Now, it can be hard or impossible to pin down exact on-sale dates for these products, but since this issue of LOGiN would have been on shelves in September 1985, that means that it seems very likely that 3156 Coro Coro was in fact Tanaka's first published game!
As Gaming Alexandria readers surely know, the Japanese PC gaming scene is woefully underexplored, under-documented territory, especially so since it formed so much of the foundation of Japan's console game industry, and thus, some of the world's most popular games as well. It's fascinating to think that a game produced by Square, one of the world's most well-known and globally impactful publishers, could be so lost for so long that even the experts in the field considered it to have never been released at all. What other treasures are still out there?