This is a fully completed prototype for the unreleased Game Boy Color version of Towers II: Plight of the Stargazer, planned to be released in October 2000. The game was sent over to us by lead programmer Vince Valenti, who gave us full permission to preserve the ROMs online.
Included in this bundle are the finished ROMs, a revised version made to work on the GBA's compatibility mode, and several development assets used during production a la press releases.
The files can all be downloaded here.
Game Details
Towers II: Plight of the Stargazer was originally developed in 1995 by JVGames; a Nevada based studio founded by Vince Valenti and Jag Jaeger as a way to develop titles for Atari and PC platforms. Originally developed for the Atari Jaguar, the American-style RPG was revived in late 2000 to be released on the Game Boy Color by publishers Telegames and Vatical Entertainment.
According to Valenti, Towers II: Plight of the Stargazer took roughly six months to be completed. This went far past the estimated three-month development time, as the developers took the time to add and improve features from the original Jaguar release such as:
Approximately 6 minutes of vocal conversations.

A brand new FMV intro for the title screen.

A co-op mode.

Larger view screen.

Approximately 15 levels to delve and explore through.
Around the end of development, an updated version was also made so it could properly run on the GBA in compatibility mode.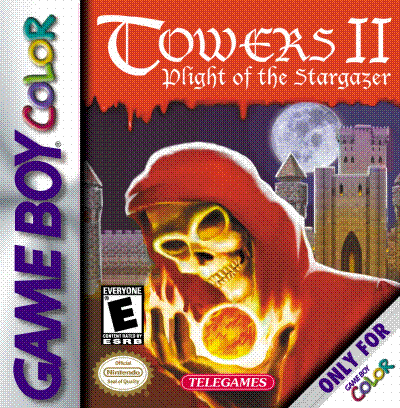 Towers II: Plight of the Stargazer was completely finished, playtested, ESRB-rated, and ready for manufacturing before it was cancelled. Publisher Vatical Entertainment was having financial difficulties at the time and wasn't able to secure distribution for the game. It was shelved soon after.
A GBA version was also briefly considered, however, it's unknown how far in development this got. However, given that this port was also ESBR-rated probably means it was also close to completion.
JVGames would continue working for Telegames after the game's cancellation, developing several GBA titles using an in-house 3D engine. As of January 2020, they are currently still working in the industry today.