English Title – Road to Dragon Quest
Japanese Title – ドラゴンクエストへの道
Published by – Hiroyuki Takizawa / Ishimori Pro / Enix
Year – 1990
Download the Manga Here [600DPI] (External Internet Archive Link)
Road to Dragon Quest is a manga that chronicles the events of the five main people responsible for the long running series and their backstory of how they all came together to work on the original Dragon Quest for the Famicom. I first saw it discussed on tsr's NES Archive years ago (Click here for article) and tracked down a copy eventually. Now it's been scanned and preserved for people to check out in all its glory! Would be great if somebody would translate it into English eventually.
The book begins with small profiles of the five –
Koichi Nakamura – The main programmer for the Dragon Quest series. In high school
submitted the game Door Door to the First Annual Hobby Program Contest by Enix.
He received an award for excellence for it. He also created the game Newtron for
Enix, which was ported to early Japanese home computers.  President of Chunsoft,
who you'll see credited in various Enix releases including Dragon Quest.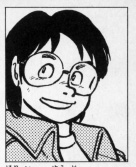 Yuji Horii – The main designer for the Dragon Quest series. Started out as a writer
before becoming a game designer. Got his start working with Enix by entering into
Enix's Hobby Program Contest with the game Love Match Tennis. Later created
the very popular murder mystery game Portopia Renzoku Satsujin Jiken (The
Portopia Serial Murder Case).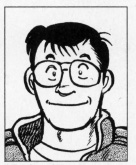 Akira Toriyama – Famous manga artist and character designer for Dragon Quest.
You can see obviously similarities to his other famous works in the style of
characters. Got his start with the manga magazines "Weekly Shounen Jump".
Most popular for his Dr. Slump and Dragon Ball/Dragon Ball Z manga series.
Also did artwork for various other games including Chrono Trigger, Blue Dragon,
and Tobal No. 1 to name a few.
Koichi Sugiyama – Composer for the Dragon Quest series.  Started working with Enix after writing a fan
letter and was asked to compose for some of their early games before writing
his popular music themes for Dragon Quest. He is a huge backgammon fan as
well who actually composed the music for Nintendo's Backgammon game
released for the Famicom Disk System.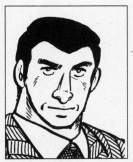 Yukinobu Chida – Director of Enix and producer of the Dragon Quest series as
well as many Enix games. Chiefly responsible for corralling all the above talent
together and managing it into creating Dragon Quest as well as the other early
Enix games that got them off the ground in the video game industry.
The book starts off with the back stories of Nakamura and Horii creating their two entries for the Enix First Annual Hobby Program Contest which place in the competition. Upon meeting Chida at the awards ceremony they are rewarded prize money and their games are then published by Enix. It then also shows that shortly after this Horii creates Portopia Renzoku Satsujin Jiken for Enix. Horii and Nakamura spend some of their winnings to fly to Applefest '83 in San Francisco along with Chida. They come across Wizardry for the Apple IIe and are blown away with it. This quickly pushes them to purchase the new Apple Macintosh computers along with a port of the game.
Shortly after this (in the comic's chronology) the Nintendo Famicom release is shown and quickly becomes a must have item for Japanese families. Enix ports Door Door the to console which is shown being sold by Enix as a third party title. Upon publishing their first game for the Famicom the group decides they want to create something like Wizardry for the console. There begins the long journey of figuring out how to create something as complex a game as Wizardry for the Famicom with its obvious controller and hardware limits.
The book continues with Sugiyama getting involved, as well as the various trials and tribulations of coming up with the idea of Dragon Quest and making it actually work. Naturally some of this is like dramatized but it makes for a great manga! Obviously Dragon Quest is finished and released and becomes the monster RPG series we know and love today. The book being published in 1990 ends with the group at a release party for Dragon Quest IV and the group celebrating together.
I've included a gallery below of some of the sections of the manga I found interesting.