This article was written by Pedro Pimenta to help support the preservation of video games in Portugal. If you're interested, please reach out to RetroArquivo to show your support!
RetroArquivo is a project helping to preserve the video gaming history of Portugal. We aim to collect and preserve gaming magazines, videogames (as well as promotional items associated with them), and the platforms they run on.
The project is run by me, Pedro Pimenta with the help of some friends: Miguel Costa writes articles about gaming history for our blog using materials we have preserved; Michelle Caldeira has been our main scanner and has also helped us digitally and physically preserve TV ads, magazines, and all kinds of promotional materials. We also receive infrequent contributions from several members of the Portuguese game developer and game collector communities, from scans, to repairs, to donating or loaning materials for preservation.
Our project

Right now, our goal is to build the most complete database of titles developed in Portugal. To achieve this, we need information about these games, their authors, years of release, platforms, and publishers. It's also important to cross-reference all this information – to our dismay, many of these games aren't available online. All we can find are press releases, often publicizing unrealized plans. Ports that weren't completed, publishing deals that didn't work, or games that never came out are, unfortunately, a common sight.
Secondly, we believe it is important to preserve the original releases both physically and digitally. We aim to have a physical copy of each title and save a digital copy of everything we find, uploading whatever content we can to The Internet Archive.
Our long-time plan is to have this collection available at a physical location. This will allow historians, academics, producers, videogame development students, and the public to access a wealth of information that cannot be found in local libraries – or even the national library of Portugal!
So far, we have added the majority of ZX Spectrum titles released up to 2022 (courtesy of Planeta Sinclair). We are also working on finding console, computer, and mobile titles. Even after all this work using lists we've built over the years, there's still an immense list of PC and mobile games missing – plus more that we probably aren't even aware of!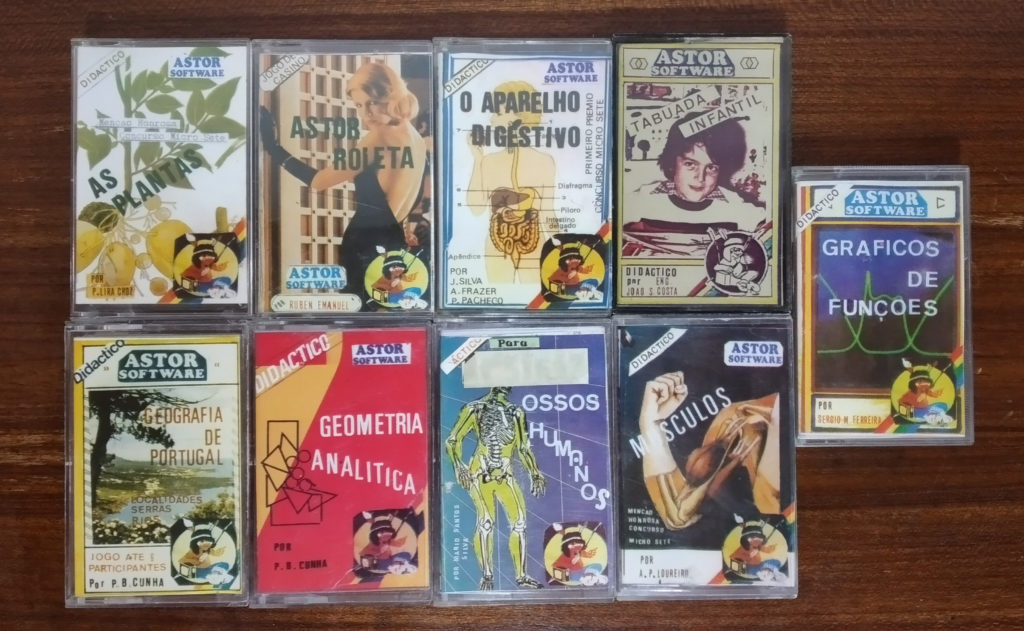 We have now opened our doors to anyone who can help or provide information on the above topics. We are hoping this will be a turning point in our pursuit in building the definite database of Portuguese videogames; we are counting on your help in any way you can!
How can you help?

Right now, this project is being managed solely by me, Pedro Pimenta. If you think you can help, please contact us at [email protected]. I will then direct you to our database and get you up to date on our current tasks.
Lately, I've copying a list of mobile titles (actually what was the first version of this database) of which I only have the title and developer. Right now, there are 110 titles that need to be copied to the main file. Each one of these needs to be researched to collect enough data to fill out the information.
For each case, I try to search for the developer/studio's old website (on The Wayback Machine) or their social media page, then also take note of all other games mentioned to also add them to our list. That information needs to be cross-referenced with whatever we find on other websites to confirm when and if they were ever released.
After this is finished, then we'll move onto doing the same with our other databases. Online titles (MMOs, Flash games, etc.), then finally PC games.
About RetroArquivo

Even as child I was a collector of sorts. As far as I can remember I've always taken great care of my things, especially the few games and consoles that came by. While growing up, we couldn't afford the latest consoles, a high-end computer, or any of the latest games, so I turned to the magazines which became my main connection to the video game world. I'd like to think this experience laid the groundwork for me wanting to understand video games in a comprehensive manner, growing into the passion it is now.
In 2011, I found CDs of two Portuguese educational games in my old school library that had been practically forgotten by the Portuguese gaming scene. Upon learning that a book was being written about the history of Portuguese videogames, I immediately contacted the writer (Prof. Nelson Zagalo) offering to help and later ended up contributing!  It was released in 2013 as Videojogos em Portugal – História, Tecnologia e Arte.
Through the research done for this book I discovered an amazing new world of Portuguese video games that I had never heard about, so I decided to start collecting and studying them. After that, I started collaborating with the blog Planeta Sinclair and museum Load ZX, who helped immensely in cataloging Portuguese ZX Spectrum history. Slowly, by collecting, preserving ,and writing about these findings, my knowledge kept expanding.
Over time, all printed materials I collected related to the ZX Spectrum computer were scanned and published on the museum website. I was even invited to moderate a talk at the museum with Marco Paulo Carrasco, one of our pioneer developers. Shortly after that, I helped write with André Leão (from Planeta Sinclair) a three-part YouTube series by the channel Cineblog that summarized the history of Portuguese videogames: Uma Breve História dos Videojogos Portugueses (A brief history of Portuguese videogames).
I have also written several articles for the magazine Espectro, released in Portugal and Brazil; for the Brazilian magazine Jogos80 and also for Crash Magazine in the UK. These articles often use information and pictures from my collection. I have also had the privilege to interview historical figures like Stefano Arnhold, former head of Tec Toy. Recently I collaborated with Retro Gamers, a TV Show on SIC Radical network, writing an episode and also taking some of my consoles to the studio for filming.
Over time, I started connecting with the current Portuguese gaming industry as well and in 2016, I joined my first Portuguese video game project as a composer. Music has been a personal hobby, so when the opportunity came by I was excited to combine both my interests. Soon thereafter, this helped me access industry events, meet new people and learn their stories, and even collect digital materials plus promotional items that were useful as research for articles I wrote about cancelled games for Unseen 64.
Retroarquivo was born in 2020, out of my sheer desire to share with the world my personal collection of video game magazines, promotional materials and software. This was very much motivated by seeing the work of Planeta Sinclair and inspired by similar projects doing preservation work abroad. Adding to that, I received a large donation of magazines, Sega leaflets, and catalogs from a good friend; I knew I had to preserve and share them with the public.
We now have a small team of volunteers collecting, scanning, sharing, and writing about all kinds of materials from our collections and donations. These contents are being uploaded to The Internet Archive and shared on our blog on a weekly basis, with regular posts contextualizing these items and their importance.
With the growth of our project and donations that keep growing, our next focus will be on establishing a physical location for the archive. But for now, we hope you can help us continue building our database to help preserve the history of the Portuguese gaming culture.
Examples of our work
Tabuada Infantil
Tabuada Infantil, developed by João Costa for the ZX Spectrum and released by Astor Software in 1984. This is a somewhat simple educational game with no graphics, just text, part of a larger collection of similar titles. It teaches multiplication tables with two different play modes. One shows the table to a number chosen by the player and after memorizing it, we are asked questions about it. The second, harder mode, displays questions about random tables. Each correctly answered question gives the player a point and the score, of course, is displayed at the end. Tabuada was preserved by Planeta Sinclair from the tape in our collection.
Link: https://planetasinclair.blogspot.com/2017/07/tabuada-infantil-mia.html
Play for Peace
Play for Peace was developed by Nuno Miguel Almeida and released for the ZX Spectrum in 1989 exclusively through a Lisbon computer shop called Chai Informática. It consists of an arcade-style mix of pong and breakout with several levels spread all over the world represented by a background image of a local monument. The Player's goal is to reduce nuclear weaponry through negotiation in various countries conquering peace around the world. The biggest flaw is its slow speed, but it remains quite an impressive title nowadays, especially because of the graphics. It was even shown on national TV (Ponto por Ponto airing on RTP) back when it was released. We have the physical copy used by Planeta Sinclair to preserve the game.
Link: https://planetasinclair.blogspot.com/2018/06/play-for-peace-mia.html
As Aventuras da Peregrinação
As Aventuras da Peregrinação was developed by Fórum Multimédia and released in 1997 exclusively for PC. In this game, we are led through various selected scenes, recounting the historical travels of the 16th century explorer and writer Fernão Mendes Pinto described in The Pilgrimage, a book published posthumously in 1614.
In each of these scenes, selected by their historical significance, we interact with the environment and characters in different ways. Two of the scenes are told in a point n' click style game, but there are also two shooting games recounting naval battles, a game of Mahjong in China or a Duck Hunt style of game in Japan (alluding to the introduction of firearms in Japan). Interestingly, it was developed with the support of the Portuguese government to celebrate the anniversary of the Portuguese "Discoveries" period. It has been preserved by us and is now available on LusoArquivo.
Link: https://archive.org/details/aventuras-da-peregrinacao
Ninja Bear 1 and 2
Ninja Bear 1 and 2 are two PC platform games developed by a young Tiago Sousa (nowadays Rendering Technical Director at ID Software), his first original games. These were published by Mega Score magazine in the "Talents" section of their CD-ROM in 1999 and 2000. Mega Score was, without a doubt, the magazine that supported the burgeoning Portuguese gaming industry the most. Tiago's games were also some of the first to be published in the (at the time) new section.
On the original Ninja Bear, the player has to fight enemies using his shuriken, solve simple puzzles, find the hostages, then fight against the final boss. The second game is a side scrolling platformer, probably inspired by the original Sonic the Hedgehog game, with more enemies to fight, traps to avoid and a final boss inspired by Sonic's Doctor Eggman. A 3D sequel was planned with a bigger team (found through the magazine), but never finished. Both of these games were preserved by us and shared on Planeta MS-DOS blog.
Links: https://planetamsdos.blogspot.com/2019/09/ninja-bear-mia.html
https://planetamsdos.blogspot.com/2020/05/nacional-ninja-bear-2-tiago-sousa.html
We hope this will give you the gist of what we do. Thanks for your time, we hope to hear from you soon!
Learn more about RetroArquivo
Here is our blog:
https://retroarquivo.wordpress.com/
Archive.org page:
https://archive.org/details/@retroarquivo
And YouTube channel where we share things like TV ads and gameplay videos of obscure games: