We are thrilled to bring you our third complete magazine set!
All 17 issues of the rare (and expensive!) type-in programming book series Program Pochette (プログラムポシェット) have been scanned and shared on the Internet Archive. The purchase of almost all of these was funded by the Video Game History Foundation. There were two issues that were missing from the VGHF purchase that ozidual kindly purchased AND scanned for us so big thanks to him as well!
These are normally quite expensive and rare, but were auctioned off as "cut pages" so they were already debound and most collectors would not be interested in them. We were able to win the auction at a discount due to this, and it was perfect for our needs!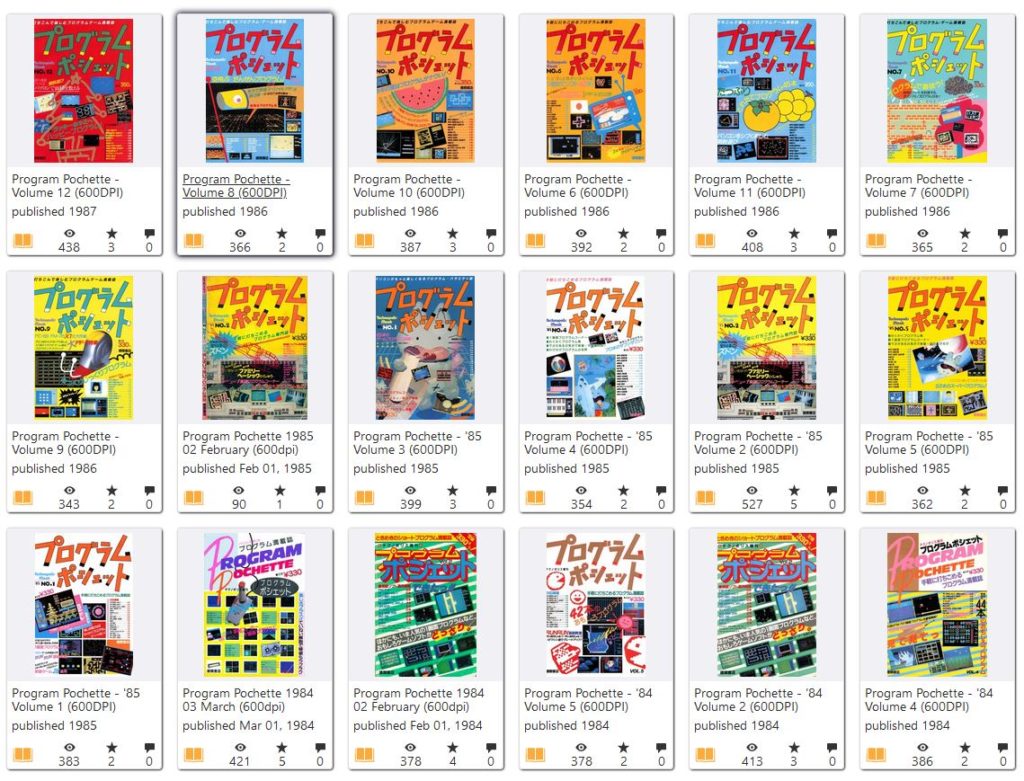 This magazine was an offshoot of Technopolis (テクノポリス) which was published by Tokuma Shoten (徳間書) and ran for a total of 17 issues from 1984 until 1987. Technopolis, like some other computer magazines at the time, published submitted type in programs and games from budding programmers in Japan. Eventually the submissions became so numerous that they started publishing Program Pochette which was dedicated solely to them.
These programs were submitted for a very wide range of Japanese computers at the time such as popular ones (NEC PC-88 series, Sharp X1, MSX) to less popular and more obscure (Bandai Gundam RX-78, Mitsubishi Multi 8, Hitachi Basic Master Level-3 Mark-5).
Program Pochette and other similar magazines like Micom BASIC (マイコン BASIC) are a treasure trove of never-before-seen games in the West. We now can properly preserve and share these programs by typing them in the various computer emulators available – which is benefited by these high resolution scans for OCR. If you think you might be interested in these please join our Discord, as we have a channel called Typing Task Force which has preserved dozens of previously lost games. Many have already been submitted and posted on this very site!
Please spread the word on Program Pochette and share what you find in the comments below, on Twitter, forums, Discord, or anywhere else! We want the world to be able to enjoy and research these beautiful magazines. If you enjoyed these please let us know!
To view the magazines click here (Gaming Alexandria listing) or here (Internet Archive listing). To download them all with a torrent client you can use the magnet link here.
If you enjoyed this and are interested in helping us fund acquisitions of stuff to scan please consider becoming joining our Patreon or purchasing some of the games we have scanned at our store.