We are thrilled to bring you our fourth complete magazine set!
Every issue of Famimaga 64 (ファミマガ64) has been scanned and shared on the Internet Archive. We were able to purchase all these thanks to our Patreon funds as well as our friend ozidual purchasing some of the issues, as well as scanning a large amount of them. Thank you for your support! These issues will be mailed to the Video Game History Foundation in the near future to be added to their library.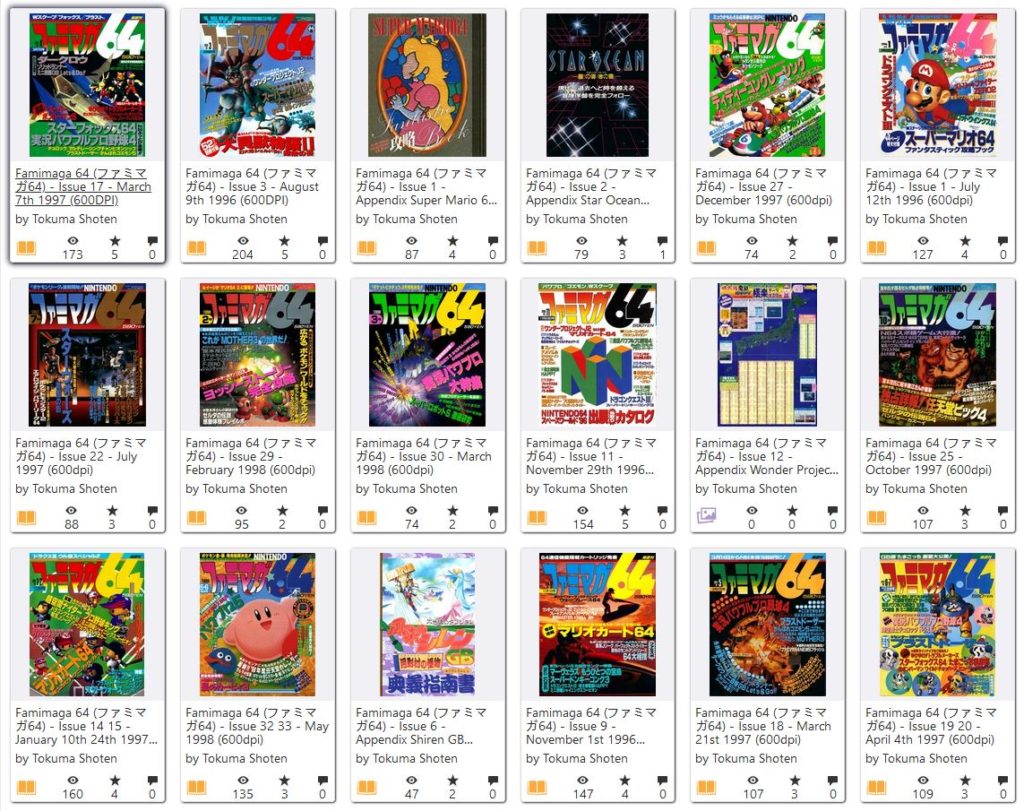 Famimaga 64 is somewhat of a successor to Family Computer Magazine/Famimaga (ファミリーコンピュータ) which we have some scans of here. Famimaga began in July 1985 as the first magazine dedicated to the Nintendo Famicom. Throughout the 80's and early 90's it remained mainly Nintendo focused; when the Sony PlayStation began to really eat into Nintendo's market share the magazine's popularity started to crumble due to other magazines such as Famitsu having more comprehensive video game coverage.
The magazine was rebranded into Famimaga 64 in July 1996 and another offshoot magazine called Famimaga Weekly was launched shortly after around November to cover other systems, plus Nintendo. Unfortunately it was discontinued half a year later. Famimaga 64 hung on but abruptly ended with the May 1998 issue.
While the magazine was Nintendo 64 focused there was also a lot of coverage for late releases for the Super Famicom as well as Satellaview releases. Due to the magazine's close relationship to Nintendo they also had lots of great interviews with developers including Shigeru Miyamoto. One of the best parts of having these scanned in high resolution now is that we have a lot of early development screenshots for some of the most important and unreleased titles for the Nintendo 64 including The Legend of Zelda – Ocarina of Time and Mother 3!
Please spread the word on Famimaga 64 and share what you find in the comments below, on Twitter, forums, Discord, or anywhere else! We want the world to be able to enjoy and research these beautiful magazines. If you enjoyed these please let us know!
To view the magazines click here (Gaming Alexandria listing) or here (Internet Archive listing). To download them all with a torrent client you can use the magnet link here.
Just a quick note the torrent link contains files that were edited by Hubz that make them appear a bit brighter and remove a lot of the bleedthrough from ozidual's original scans. However not everybody likes that style so if you'd rather them look more authentic you might want to grab ozidual's scans from the Internet Archive.
If you are interested in helping us fund acquisitions of stuff to scan please consider becoming joining our Patreon or purchasing some of the games we have scanned at our store. Keep on preserving!