The strong affinity that the late 'King of Pop' always felt for video games is well-documented. His collaborations with the game-making company he perhaps loved most, Sega, have been noted as the stuff of gaming legend. Moonwalker, Space Channel 5, most infamously of all Sonic the Hedgehog 3 – three key parts of the long-standing love affair between the two 20th century pop culture titans, both of them hugely influential in their own ways.
And alongside these is a somewhat more forgotten, exclusive title. One that was only ever available through an expensive motion simulator at less than one-hundred locations worldwide for just a few years during the 1990s – after which it faded from view and into obsolescence. But now, thanks to the efforts of a few almost impossibly lucky people and a special Gaming Alexandria contribution, it can be seen in full once again.
This is Michael Jackson in Scramble Training, from its extraordinary inception over 30 years ago, to decades of obscurity, to eventual rediscovery at a car boot sale in Britain.
---
Of the many things that Michael Jackson is and was – singer, songwriter, dancer, to name just a few – another clear, but slightly less impactful example is 'passionate game fan'. Born at just the right time to appreciate the commercial rises of both coin-op and consumer video games as an adolescent, the successful early days of Jackson's pop music career with his brothers ran parallel. Soon he had greater access to the burgeoning medium than his harsh working-class upbringing in Gary, Indiana had ever allowed.
Early indications to the public of MJ's arcade gaming fandom include numerous photographs taken with pinball machines and other ubiquitous cabinets in the late 1970s and early 80s – existing among other early celebrity endorsements of gaming – as well as a little-known Atari office visit with famed producer Quincy Jones in 1983.
Yet, in retrospect, this was all merely a prelude to his most visible gaming associations. As MJ's solo popularity skyrocketed and reached fever-pitch among much of the general public, globally popularizing dance techniques and the art of the music video, so did home video games. The first true crossover between them would commence in the late 1980s.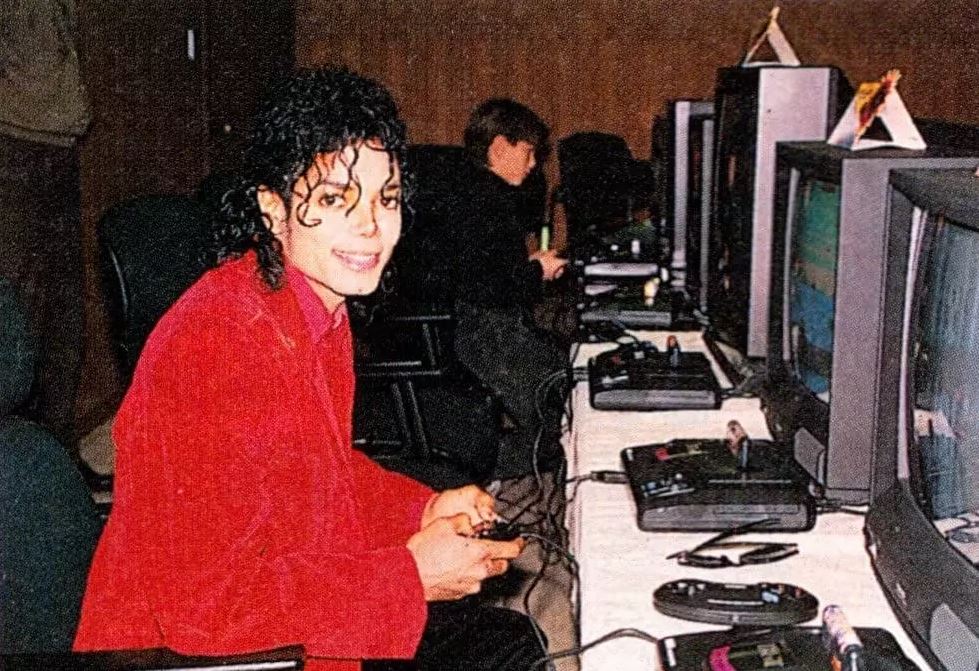 On the final leg of his Bad world concert tour in Japan in December 1988, one of the earliest of what would become many meetings between Jackson and Sega Enterprises took place. Already known to possess an expansive private collection of arcade machines at his home, he was intrigued by the deluxe 'taikan' machines bearing Sega's name.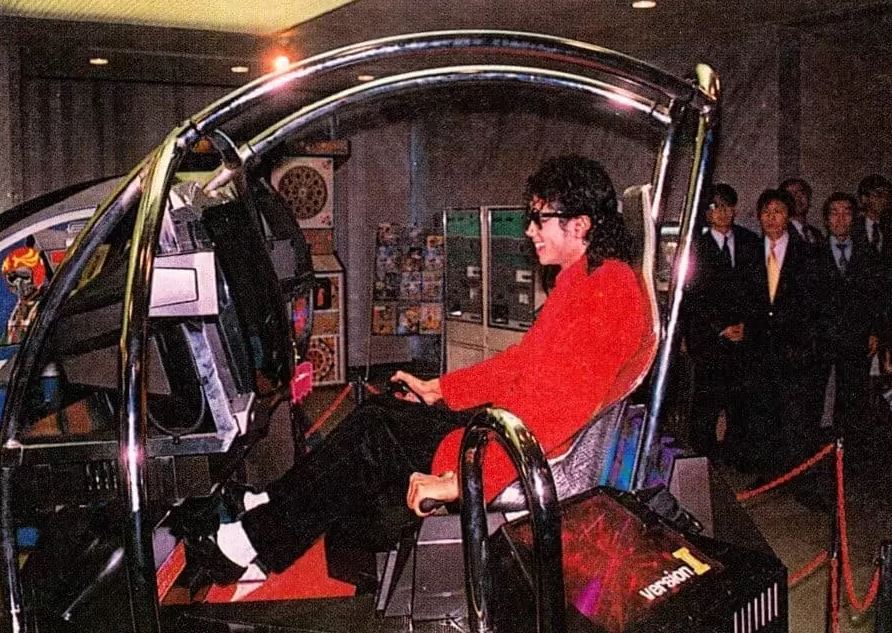 Ultimately, this visit would endear the company as one of the foremost game-makers in MJ's mind. Alongside talks with president Hayao Nakayama on a collaboration, he was kindly gifted with a new Mega Drive console, and the larger, super deluxe Galaxy Force II arcade machine (which fellow Motown royalty Diana Ross allegedly also owned).
Tentative plans for the joint development effort between them would eventually take on the form of Michael Jackson's Moonwalker, released in 1990 to both consoles and arcades as a tie-in with the eponymous feature film from 1988. Both of Sega's versions of the game – the former a Shinobi-like action platformer, the latter an isometric beat 'em up – saw Jackson closely involved in production with the company's numerous R&D departments, and helped form strong bedrock for a solid mutual appreciation between the two.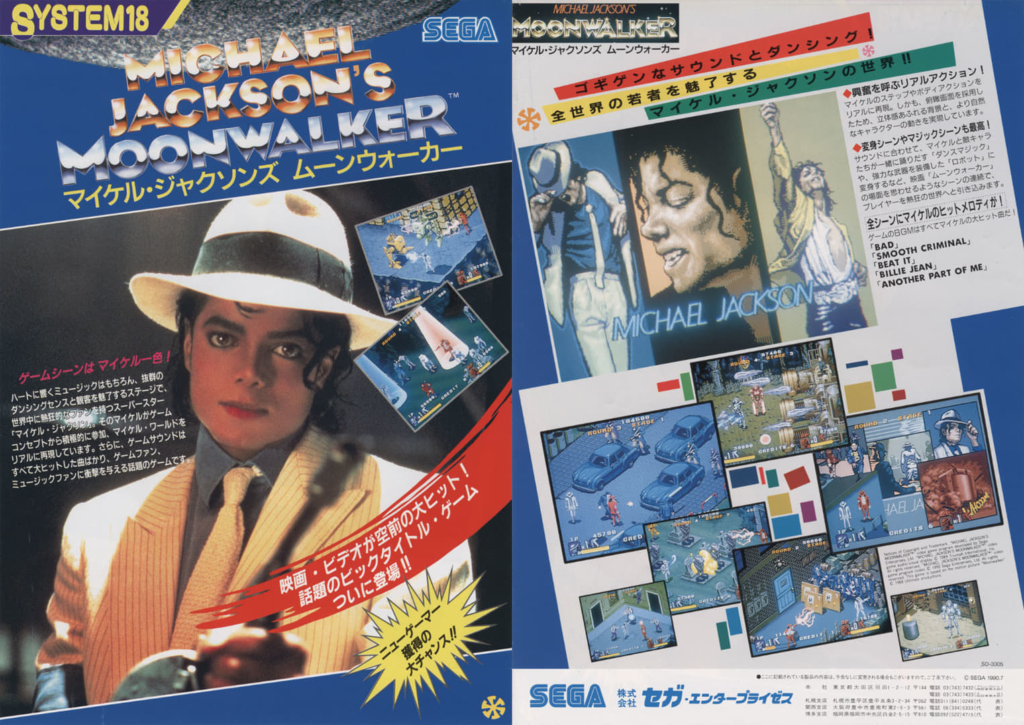 Unsurprisingly, the star's likeness also soon took pride of place in the first competitive, celebrity-endorsed 'Genesis Does' commercials from Sega of America.
Though the alliance with MJ provided Sega with one of their initial tastes of the overseas attention that would soon bring about their greatest success, they were beginning to eye up a hopefully even bigger prize. The company was looking to create bigger, more complex experience game machines, whilst their coin-op amusement locations took on a more socially-acceptable role in the late 80s era of Japanese location-based entertainment. Nakayama and the Sega executive staff were ultimately exploring a new opportunity: high-tech theme parks.

Like Sega, many in Japan were inspired by the opening of Tokyo Disneyland in 1983, but industry rival Namco had been the first native game-makers to make their dreams a reality. Their gargantuan 28-player Galaxian 3 interactive shoot'em up attraction and Tower of Druaga dark ride were showcased at the three-day Expo '90 event in Osaka in April 1990. These would then be relocated by early 1992 to Wonder Eggs, the company's own urban mini-Disneyland. Wonder Eggs became a popular arcade franchise and extension of Namco's coin-operated amusement business to new heights.
Sega had smaller scale initiatives such as the 'En-Joint' facility concept and R360 simulator which followed these footsteps at the same time. Not to be outdone, the company was also making preparations to launch similar, but larger plans than Namco's. Sega didn't just want to imitate Disney – they wanted to take them on as a competitor in the long-term, riding the heady Japanese bubble economy to its fullest.
Off the back of their recent successes in cleaning up game centers to become amusement facilities, billions would be spent on new research, development, and management capabilities. Sega explored virtual reality and new hardware technology and identified it as a key to success in what would be a 100-strong global network of indoor facilities, officially dubbed by themselves and latterly the industry itself as Amusement Theme Parks.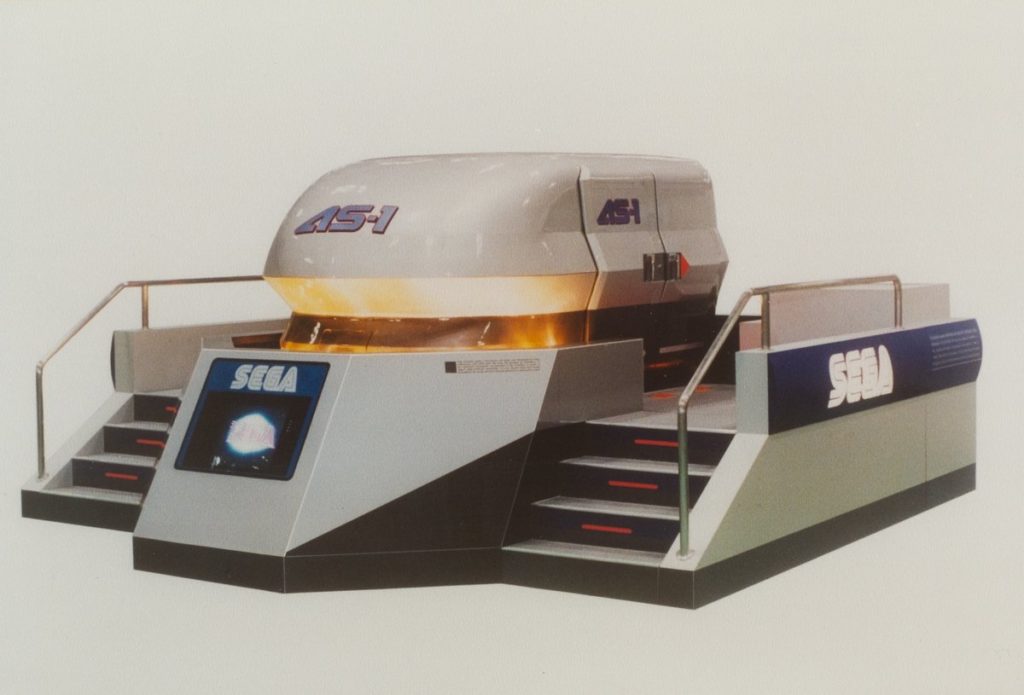 One of the first centerpiece parts of the 'ATP' concept was the AS-1 (Advanced Simulator-1), an eight-seater motion simulator pod created by new in-house ride R&D department Sega AM5. It initially used a four-axis hydraulic base jointly made with the Japanese arm of Moog Inc., then was enhanced by the late, great theme park designer Douglas Trumbull and his Berkshire Ridefilm production team. AS-1 became Sega's calling card in the amusement attraction arena, with it subsequently used as the base for several later rides by the company. However, it also needed distinctive in-ride films to stand out.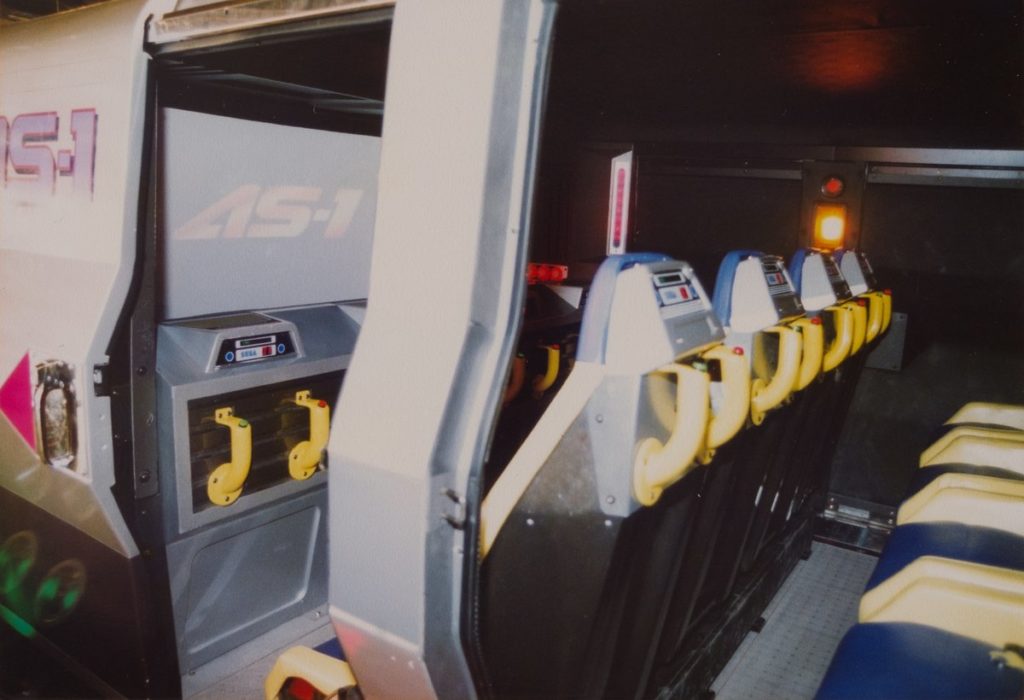 Sega knew what was required to immerse and impress – cutting-edge, early computer generated 3D graphics. In the case of the AS-1, pre-rendered graphics would be run off of a laserdisc. These did present a challenge, as the company was yet to possess adequate technology and producers to make these films. Fortunately, a worthy external production house was found – local independent development company Graphics Technologies. A basic prototype film, Sega Supercoaster, was produced to briefly fulfill a location test in early 1992. Further showings that year also made use of Muggo!, a new film commissioned by Sega while they were discussing the design of the AS-1 with Trumbull's team.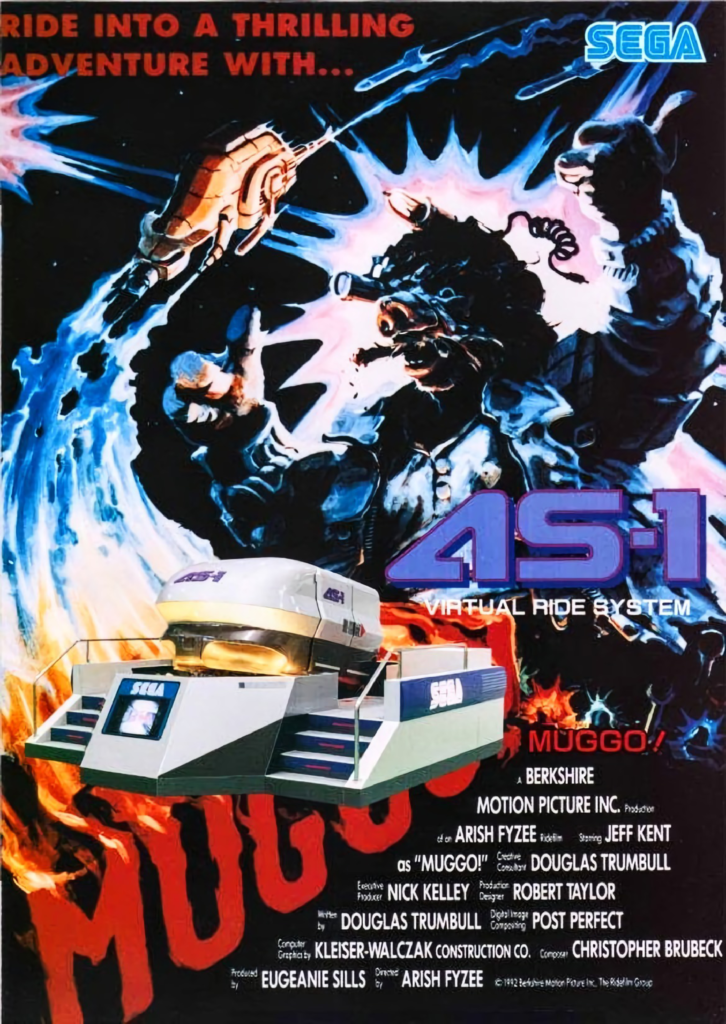 These appearances maintained the AS-1's profile, but Sega themselves were working on a film that would take the experience to the next level. AS-1 had been designed with interactivity in mind to deepen rider immersion, and its next title would finally take advantage of this potential. Despite still lacking the ability to produce proper film-ready 3D graphics, the new project began with personnel from the same internal R&D department that had created the simulator itself.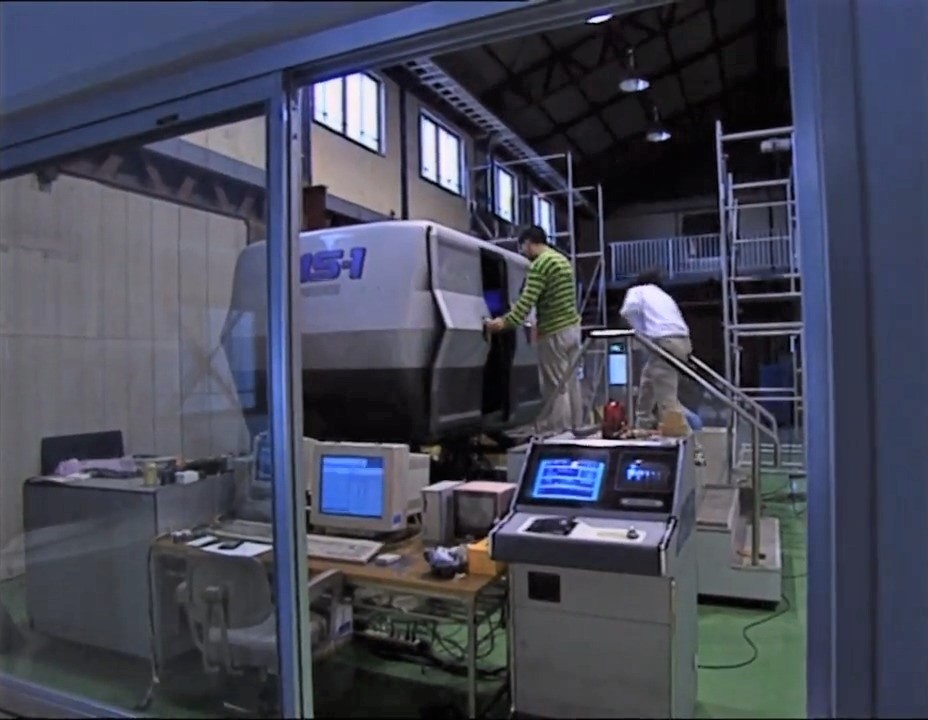 Hironao Takeda, a key development manager of AM5, claims to have chosen the unusual step of handing the reins over to two fresh-faced developers – Hiroshi Uemura, previously a producer of Sega's first successful children's rides, and Kenji Sasaki, then-vice president of the aforementioned Graphics Technologies. Uemura wrote and directed the new project almost single-handedly, whilst Sasaki led his company of CGI artists in visualizing his concept jointly with Sega.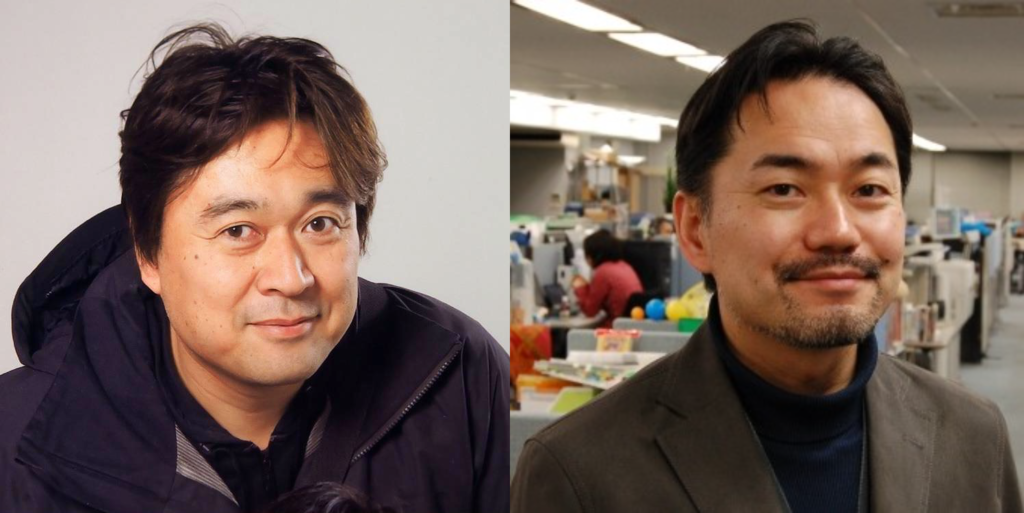 Though both developers were still young and relatively inexperienced, Takeda said through his blog that he recognized their nascent talents. The result was Scramble Training, an eight-minute interactive space opera film. In it, riders were trainee spacecraft pilots, taking off and joining a seemingly safe combat training mission in the near-future. Suddenly, a real battle breaks out, and the trainees must use their missile launcher buttons and quick wits in a series of quick-time react events to try and stop the conflict, then land back home with ease. Part on-rails space shooter, part-ride, it was exactly what Sega and the AS-1 needed.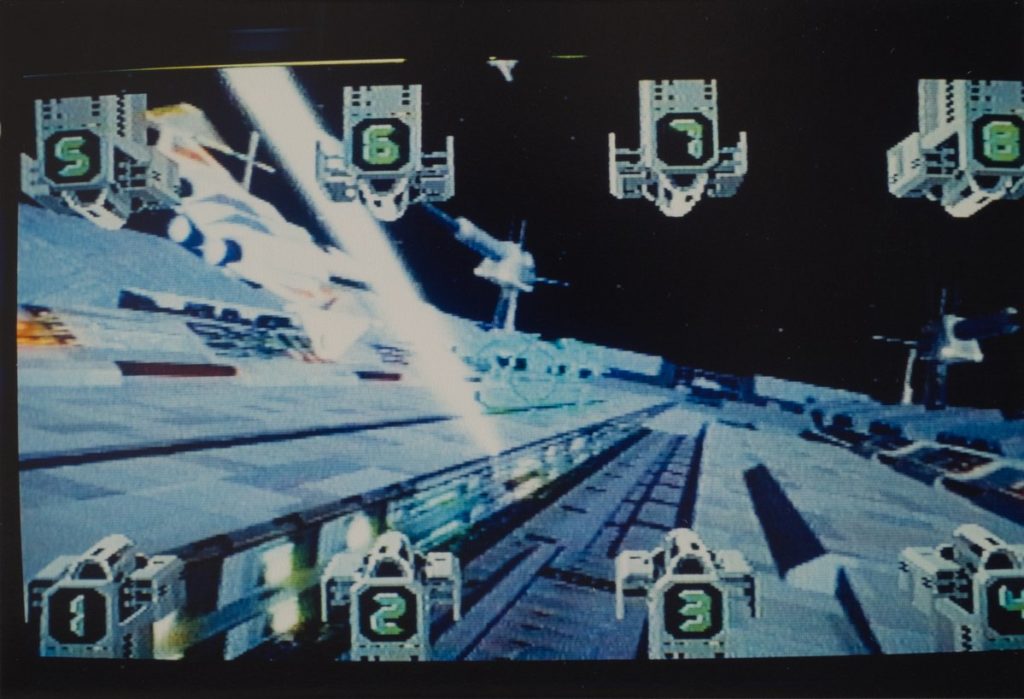 By the end of 1992, Scramble Training was thought to be complete, even to the point of receiving an English localization. Its developers were already moving on to new projects. Sasaki had joined Namco to work on Ridge Racer, gaining further experience he would later find useful upon his return to Sega as part of AM3, where he directed and designed numerous arcade hits such as Sega Rally Championship. Uemura meanwhile continued developing AM5's theme park attractions, and later devised Mushiking, a pioneer of the lucrative children's arcade card game genre in the 2000s. However, their career-kickstarting title was not finished just yet.
On another world tour during December 1992, Michael Jackson returned to Sega in Japan, where he spent much of his free time again. Thanks to articles in Game Machine and Sega company newsletter Harmony, his movements can be pinpointed to an exact timeframe; Jackson first went to the newly-opened Roppongi GiGOamusement center ran by Sega on December 10th, and secondly paid another courtesy visit to the company's Osaki headquarters on the 15th. Here, a fateful meeting would take place.
After greeting a Sonic mascot costume and Sega's top brass – including Nakayama and CSK chairman Isao Okawa – the two made their way to attend a 30-minute-long conference in which the prospects of future collaborations were discussed. Moonwalker had been a success, and both now wanted to build on it. Sega had been much smaller even just two years earlier; they felt Jackson's high profile helped them achieve more recognition. With the company's recent growth thanks to the Mega Drive and Sonic the Hedgehog, the company could now themselves elevate Jackson in their field.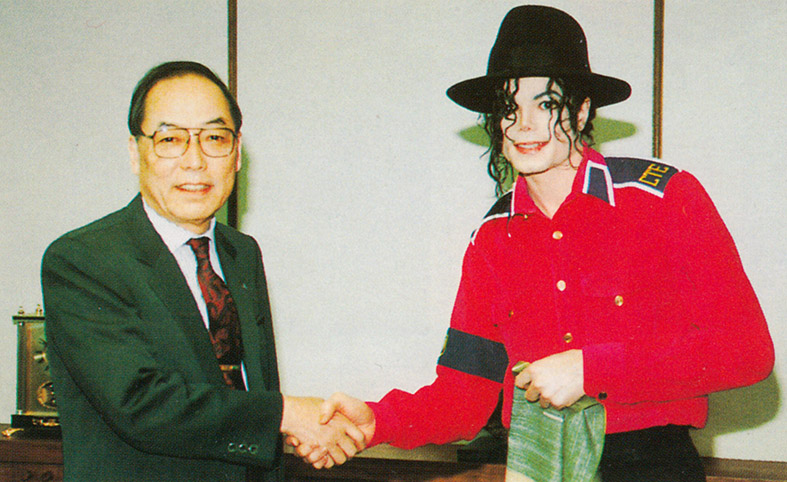 A few things resulted from the conference. After being particularly taken with the machine on his recent visit to the Roppongi GiGO, a brand-new Megalo 50′ loaded with Golden Axe: Revenge of Death Adder and Puyo Puyo was presented by a keen-eyed Nakayama as another surprise gift and sign of their friendship. A second was vague plans for an "innovative new console game" – something which would ultimately never be realized.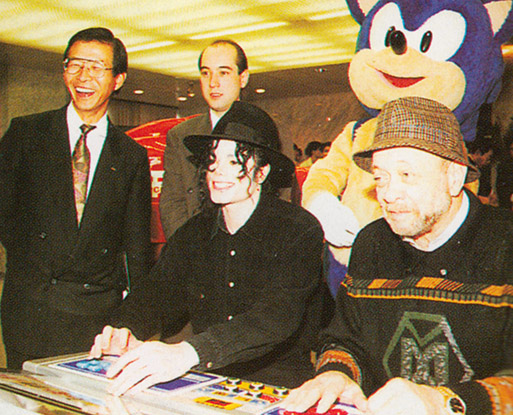 Topping all of this, however, was the suggestion of the new AS-1 simulator. Having followed and loved Sega's constant technological advancements over the past decade, this latest toy was sure to impress Jackson. Tentatively agreeing to be involved in plans for new content for the attraction, his interest was soon piqued further on a trip down to the AM5 team's development warehouse in Yasuda, where an AS-1 with the localized version of Scramble Training was waiting for him to test. He would board the machine with veteran R&D head and managing director Hisashi Suzuki – one of those in the company he is said to have been the most close to – and soon aced the game to rapturous applause from the staff.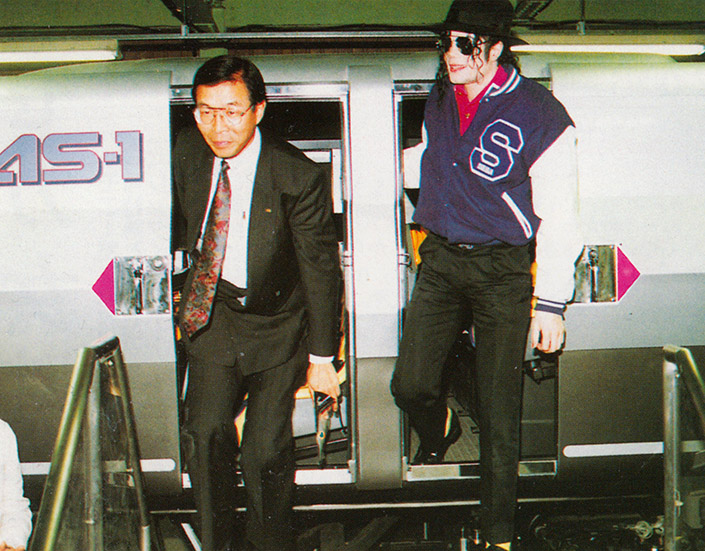 The allotted hour and thirty minutes for the visit flew by. Before leaving, Jackson's enthusiasm for the AS-1 was such that he reportedly pledged on the spot with Sega to be featured in Scramble Training, the very experience that he had just won. No stranger to works of its ilk, MJ had already starred in Captain EO, the sci-fi short film shown at Disney parks. Making heavy use of 3D imagery, the AS-1 could be seen as a cross between it and another Disney attraction, Star Tours – his reaction was unsurprising.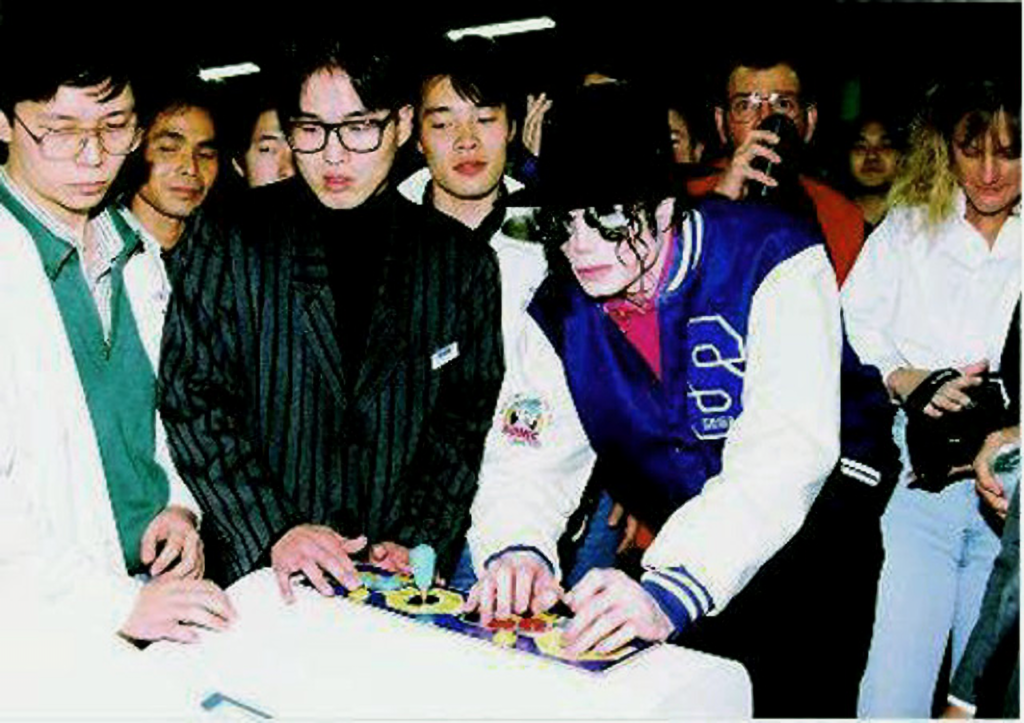 With Jackson's intentions made clear, plans were soon in motion for further meetings. Before his departure from Japan, another Sega visit occurred on December 21st. It was negotiated that he was to feature in the two ride films now planned for the AS-1. He would appear as inserts in Scramble Training and make smaller, pre-show appearances in the new Megalopolis: Tokyo City Battle (at that time still under co-development by another future Sega visionary Tetsuya Mizuguchi, and American director Michael Arias).
As the Japan leg of the Dangerous world tour concluded at the end of December, Jackson returned home and both parties were free to negotiate further in Los Angeles. Though Sega were concerned about the performance fee the star would command, Jackson is purported by Hironao Takeda to have said that no such fee was needed – a claim supported by MJ's long-time Japanese coordinator Mayumi Nina Sakazaki, who oversaw negotiations for his involvement with AS-1, and subsequently Sonic the Hedgehog 3.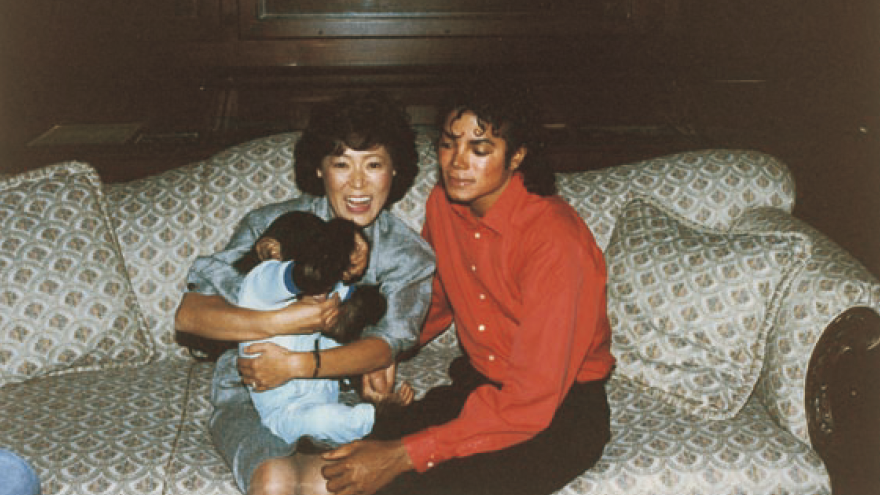 Even though he was appearing in Scramble Training for free and providing suggestions on its production, MJ supplied the filming crew, facilities, and another of his famous custom made costumes – which Sega paid some expenses for. Not only that, he would also receive an R360 simulator as another addition to his famous Neverland Ranch arcade. Production for the inserts in Los Angeles occurred during late February and went smoothly.
After the original version of Scramble Training appeared that same month at the 1993 AOU Show in Japan, the rechristened and re-edited Michael Jackson in Scramble Training made its public debut at, unusually enough, Summer CES 1993 in June. Despite its foremost status as a consumer products event, Sega chose to showcase its innovations in both the home and arcade at the show, believing that both were of equal importance.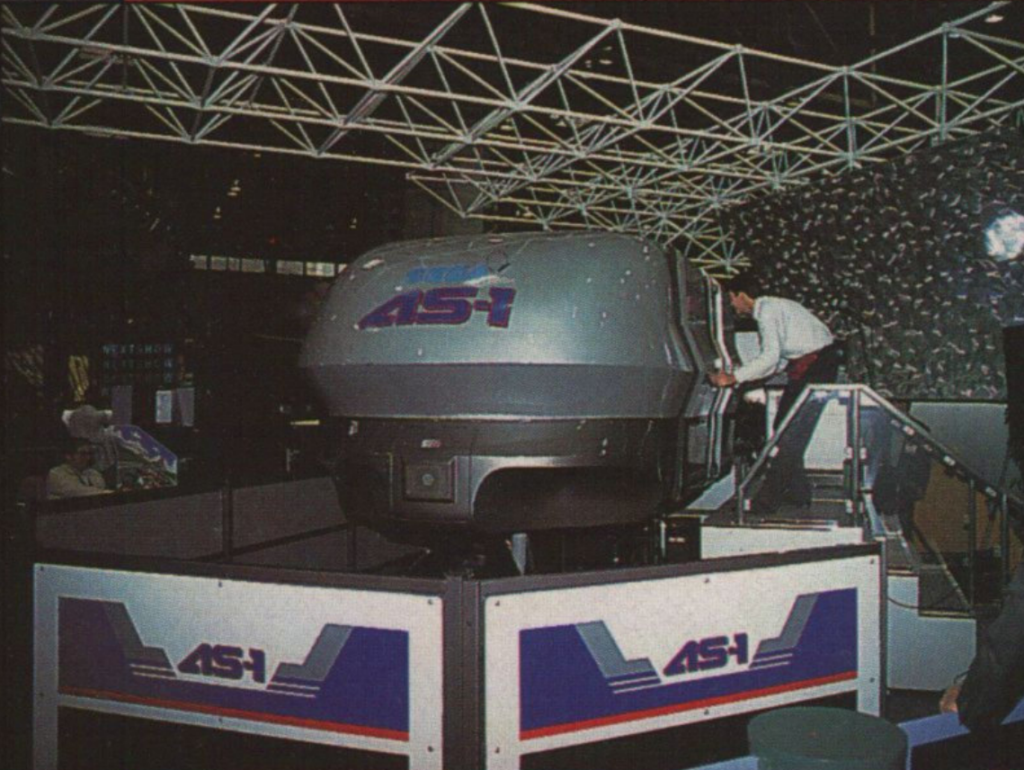 Michael Jackson in Scramble Training eventually made its public debut in Japan running in an AS-1 simulator at the 31st Amusement Machine Show exposition, held across three days in late August at the Makuhari Messe. An AS-1 running Scramble Training, as well as a monitor offering a preview of Megalopolis were just some of the high-tech marvels on display by the coin-op companies who were thinking increasingly big.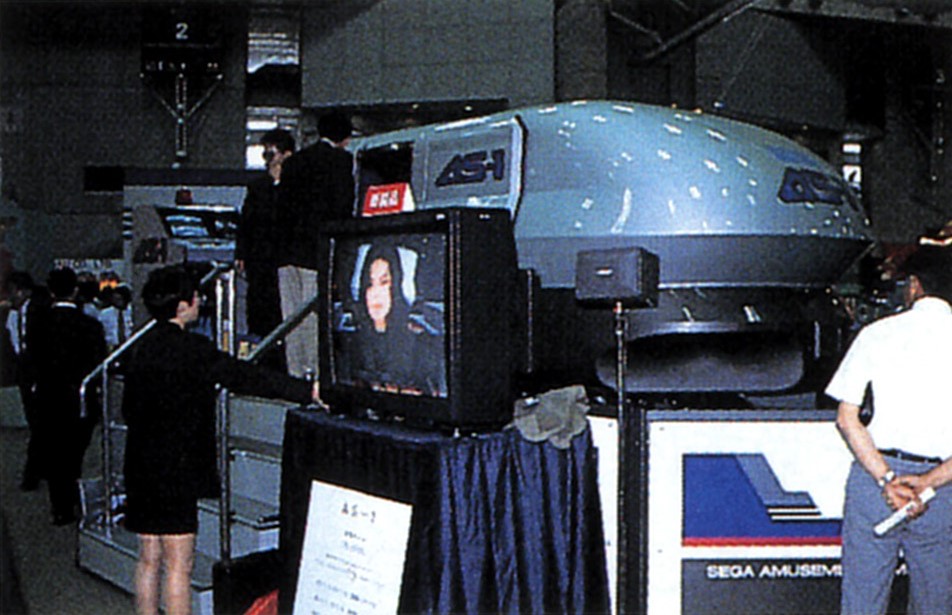 Though over 40,000 attended the event, Jackson himself did not appear, despite reportedly receiving an invite and wanting to attend – world tour commitments elsewhere in Asia kept him from appearing. He would, however, come to Japan shortly afterward and make one more fateful meeting with Sega, this time for the matter of his involvement with Sonic 3 – ultimately choosing to remove himself from it.
---
Unfortunately, at almost the exact same point in time as Scramble Training's release, the first of the child abuse allegations that cast a shadow over the rest of Jackson's career were made public. Companies and businesses across the world rushed to cut their ties with him soon after the scandal. Despite a fruitful relationship stretching back several years, Sega executive Shunji Utsumi recalls hesitancy to work with Jackson again. These have been retrospectively coupled with poor sales of the AS-1 to cast doubt on the release of Michael Jackson in Scramble Training, even with its foremost status as a unique draw for Sega's own facilities.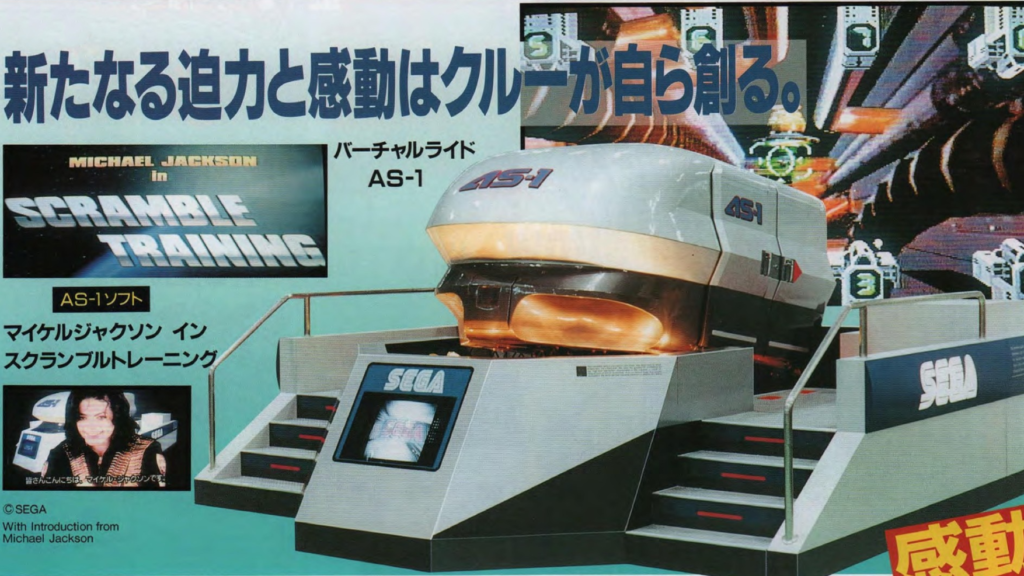 Rumors have long circulated about the apparent cancellation of the modified version of Scramble Training. However, with its release already in motion, no concerted effort appears to have been made to completely withdraw the ridefilm. In fact, it would soon appear at several Sega facilities in Japan and also make overseas appearances in the company's new mega-amusement locations. Both Sega VirtuaLand at the Luxor Las Vegas, and Sega World Bournemouth in the UK are known to have received AS-1 installations with the game featuring Jackson during the latter part of 1993.
Alongside many further showings in Japan, AS-1s appeared elsewhere. An agreement between Sega and Euro Disney to supply the park's arcade machines from its opening day in 1992 led to it also receiving an AS-1 as documented by a Disney Club report. Upon its opening in 1994, the simulator was present at the Sega's Innoventions exhibit in Epcot. Another installation in Paris surfaced in 1995 at Centre Sega. As late as 1996, even the decadent SegaWorld London was home to an AS-1 simulator running the ridefilm.
Clearly, with the range of places Michael Jackson in Scramble Training was made available worldwide, it was not actively cancelled. All the same, this was still a fairly limited release, restricted to only operators with the deepest pockets and most frequently Sega's own facilities. Like the latter version, it was left more than open to a short-term disappearance.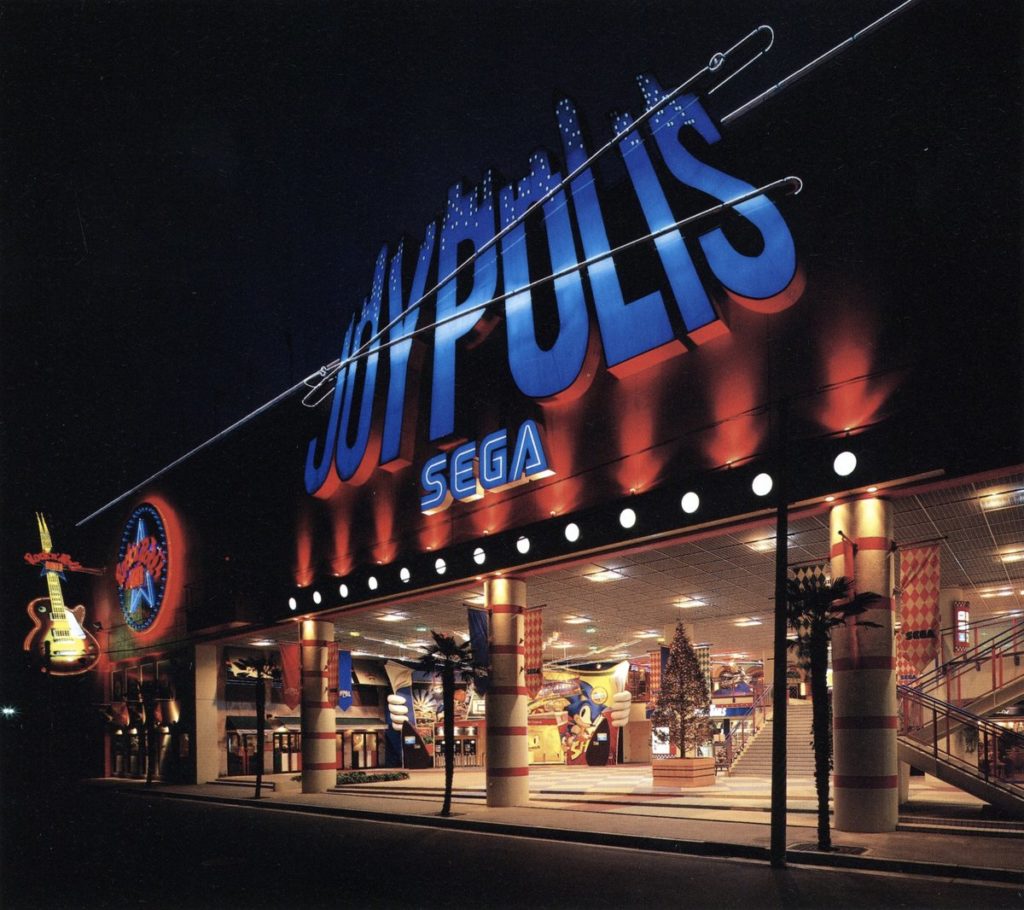 Hayao Nakayama's sky-high hopes and dreams for a global network of high-tech theme parks would soon come crashing down to Earth. Some of the parks did not meet expectations at best, and mismanaged their operations at worst. Only a reduced number of Sega's large-scale operations remained in Japan after Nakayama's departure from Sega in the late 90s. This rough transition occurred against a hectic backdrop of internal strife and a doomed, last-ditch attempt to stay in the console market with the Dreamcast (though that wouldn't stop MJ from appearing in a couple of its games).
Most of the few AS-1 installations left out in the world vanished in the following years, made obsolete by newer real-time 3D graphics and ride-type experiences. With this, Scramble Training would also disappear. For decades it was only represented by the memories of those who had experienced it, press coverage, and low quality VHS cam-rips – often wrongly titled 'Space Pilot Licence'. No old direct capture footage, no independent preservation – there were even hoaxes, including an obviously fake mock-up of a Mega CD version.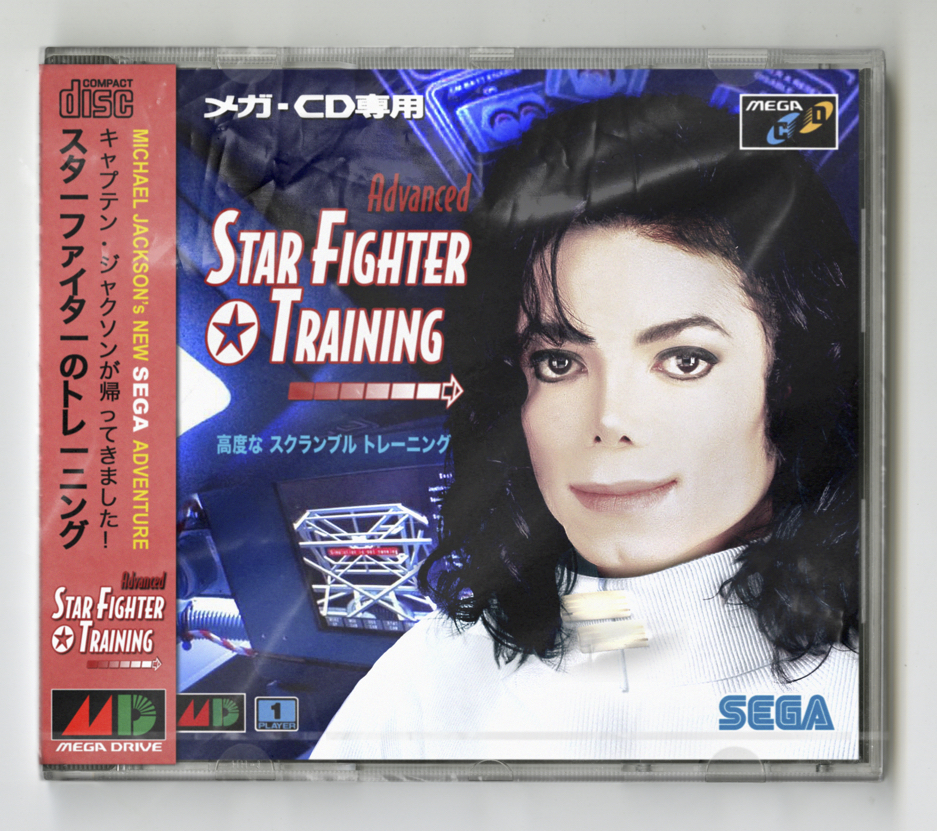 An official release seems most certainly out of the equation too – especially seeing as Jackson's estate would want to profit off of his likeness. The motion dance game Michael Jackson: The Experience, for instance, was released in the wake of his 2009 passing.
This fate obscured the cultural gravitas and the accomplishments of Michael Jackson in Scramble Training. Possibly the biggest popstar of all time, collaborating with one of the most storied game developers in a then-cutting edge interactive 3D CGI film for an advanced motion simulation ride. Though signs from official Sega archivist Yosuke Okunari were not encouraging as to its preservation within the company itself, fans would generously handle archival efforts of its direct predecessor, the infamous R360 motion cabinet game, during the 2000s. This made what little remained of both Scramble Training and the AS-1 seem even more distinct.
But today, that lack of material has been at least partially solved. All because of a relative of a former Sega employee offloading assorted memorabilia from their time under the company in the 1990s, a purchase made by someone who did not even know what they had, and help from a few people who were in the right place at the right time.
---
The summertime in Britain brings about numerous past-times. One of them is the 'car boot sale', a local flavor of the more globally-popular flea market. Professional and amateur traders sell various second-hand goods in a lot where anyone can attend. With unwanted personal possessions in tow, that can sell them out of their car boot (trunk) on a field.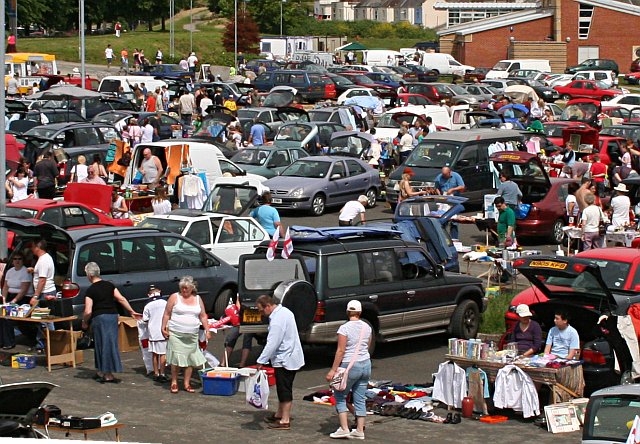 Though the proliferation of online sales and bidding have nullified much of the hope in finding rarities for shockingly cheap prices, the occasional surprise deal from someone with little knowledge or awareness for what they possess can still occur.
Back in June of 2022, a relative of a former employee from Sega Amusements Europe (the overseas arcade arm of Sega that is still going independently and selling new games today) was in attendance at one such car boot sale. He was offloading numerous pieces of ephemera from his departed relative's employment. He priced an anonymous looking D-2 digital tape simply marked "SEGA AS-1 (Michael Jackson Vers.)" at a few hundred pounds, its true preservation value of course much greater.
The eventual buyer of the tape had about as much of a clue of what it truly was as well. Beyond knowing that it said 'Sega' and came from a former employee, they knew little about it, tasking a friend of theirs with looking for answers on a Facebook Sega fan group. One lucky commenter, (@Mechafatnick), recognized the tape's importance and offered to actually help extract its rare contents for others to see, saving it from a private collector's hands. Among these privy to the initial talks included the author of this piece and Matt Gardner of Forbes, who has also written an article on the finding.
Several months later, a digital file transfer by the wonderful people at the Oxford Duplication Centre produced a direct recording of Michael Jackson in Scramble Training which is now available to the public to view in its entirety. Unprecedentedly, all of the known segments filmed, rendered, and edited for the title were found to exist on the tape, in both English and Japanese. One version is unsubtitled and featuring dubbed voice actors, the other subtitled and with the original voices.
Unfortunately, this cannot be called a full dump of Scramble Training itself. Used in an interactive ride simulator, the ROM sets for the sprite-driven gameplay elements plus motion data naturally remain unpreserved. Jackson additionally filmed an introductory piece for the AS-1 played on a monitor outside simulator installations, which also appears to remain missing. Nonetheless, perhaps the most valuable part of the experience has now been saved.
The exact origin and use of this tape seems to remain something of a mystery too. Clues do, however, exist; by the 1990s, D-2 tapes were frequently being used instead of the older Type-C format for mastering of material intended to be copied onto laserdiscs. This and the lack of the sprite overlays for the interactive portions would seem to confirm the contents of the tape are copies of the completed, original masters.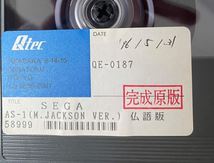 Not only this, but the tape label states a date of 31/5/1996. Translation of the Japanese kanji suggests that this tape was intended for use in France, and there is a distinct possibility that this tape was sent for internal use there during pre-opening promotional activities for SegaWorld London. These occurred around the same date, ahead of the park's opening at the start of September that same year, and it's notable that a region-specific corporate video was made for this purpose.
Regardless of the tape's own backstory, it is nothing short of great luck that this chain of events allowed such an enigmatic, poorly documented title like Michael Jackson in Scramble Training to be better preserved and viewed than ever before. The hunt continues for the ROMs and the AS-1 simulators themselves, though there have been sightings in Ukraine, Australia, and Indonesia during the past decade. The game, a representative piece of one of Sega's great multi-million gaming follies, can now be seen again.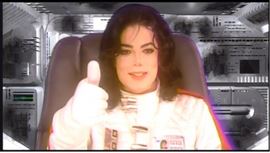 The uncompressed footage in full is available to watch and download from Gaming Alexandria's own Internet Archive account – at a whopping 14 GB in size. And for easier, more accessible viewing, the English localization portions are now on YouTube.
(Special thanks to Ben 'Bizzle' Bizley, Nick 'FatNicK' Greenfield, and the Oxford Duplication Centre for selflessly preserving Scramble Training to begin with, and making this release possible)