Your first day at school, your first kiss, and your first fully scanned run of a magazine are special moments in everybody's life and we here at Gaming Alexandria finally get to celebrate the last of these three. That's right, the entire magazine run of PC Engine Fan (ピーシーエンジンファン) has now been scanned and uploaded for all to enjoy and research. Just to point out too we'd love to preserve other full runs of magazines so if you have any you want to get rid of along with games, manuals, boxes etc. contact us! We'd love to scan it! If you just want to look at the magazines and skip the article you can click here (List on Gaming Alexandria) or here (Internet Archive listing). A HUGE thanks goes out to David Shadoff who kindly lent us nearly all of the issues we were missing in order to get them scanned. This was a massive help as the issues themselves are very expensive commonly going for $30-$50 each!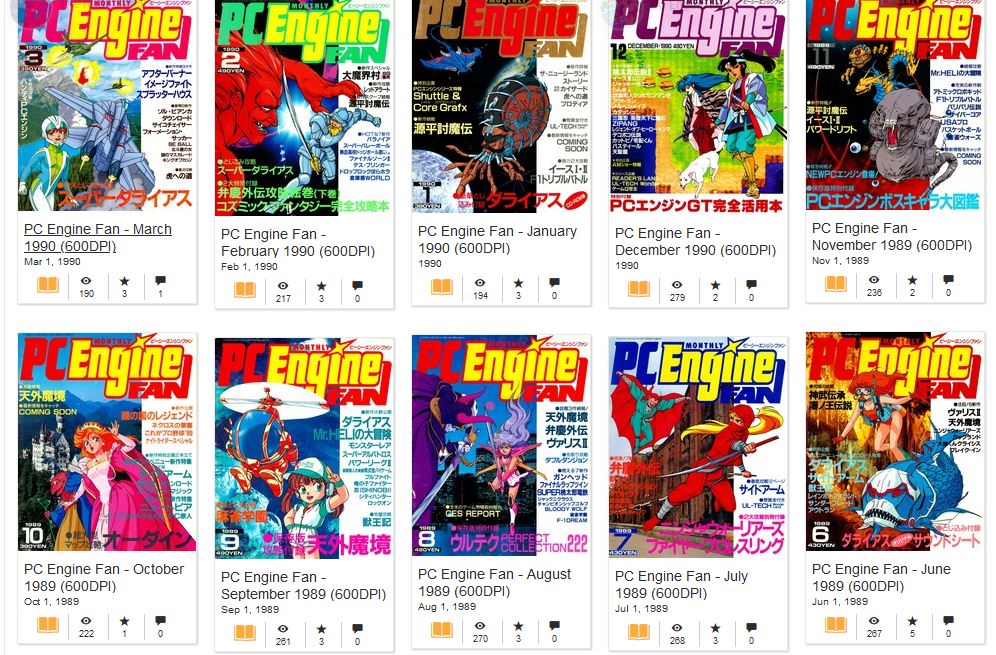 PC Engine Fan debuted in December 1988 with its first issue and was released monthly until October of 1996. There were two special "deluxe" issues that were released in 1997 as well but those were months apart. The publisher was Tokuma Shoten Intermedia who also created other system specific magazines for video game consoles at the time. Many people note the beautiful artwork on the covers and they were done by the artist Akemi Takada. The magazine mainly covers the NEC's PC Engine and its various iterations and add-ons as one would expect from the name. It also covered the short lived SuperGrafx, and the PC-FX which comprises most of the coverage of the later issues.
Included with many of the issues were various bonuses, such as appendices/strategy guides for various games, vinyl records of game soundtracks, and even discs that could be played with the CD-ROM² addon and PC-FX. The PC-FX discs are especially interesting as they included software in which readers could create their own programs for the PC-FX. While we have scans of a lot of the extras we do not have them all. Hopefully with time we will be able to acquire the rest of the missing extras and get them scanned in. But for the most part these are just strategy guides for games, and not generally useful for research purposes which is our main intent in digitizing magazines.
Contained within the magazines are all sorts of neat things. There is naturally coverage of the games being released at the time, including many games that were never actually released such as PC Cocoron, Splendid Saga, Meikyuu Jima (Kickle Cubicle), and many others. Coverage of upcoming hardware in the PC Engine line is in here as well, along with information of the various electronic shows of the day including CES in America! There are developer interviews and articles, such as in the very first issue there is lots of coverage on the various companies producing software for the PC Engine. Manga for the games Cosmic Fantasy, Puyo Puyo, and Dragon Slayer – The Legend of Heroes were also printed in the magazine. Readers Land was a popular section of the magazine in which readers could submit artwork, and write letters etc. to the staff of PC Engine Fan. There is much more to uncover in these magazines as well so be sure to dig in and see what interesting things you can find! We hope you enjoy digging through them as much as we have.
Please spread the word on these and share what you find, either via comments below, on Twitter, forums, etc. We want the world to be able to enjoy and research these beautiful magazines! If you enjoyed these please let us know!
To view the magazines click here (List on Gaming Alexandria) or here (Internet Archive listing).