Here is a 38-page pitch proposal for Aftershock — an unreleased action game by Sega Midwest planned for release on the Sega 32X. The document was uncovered by artist Stan Fukuoka, who sent the scans over to Gaming Alexandria for release. In addition to the standard gameplay overview, the proposal also contains vastly detailed character biographies and a 7-page comic recounting the game's plot.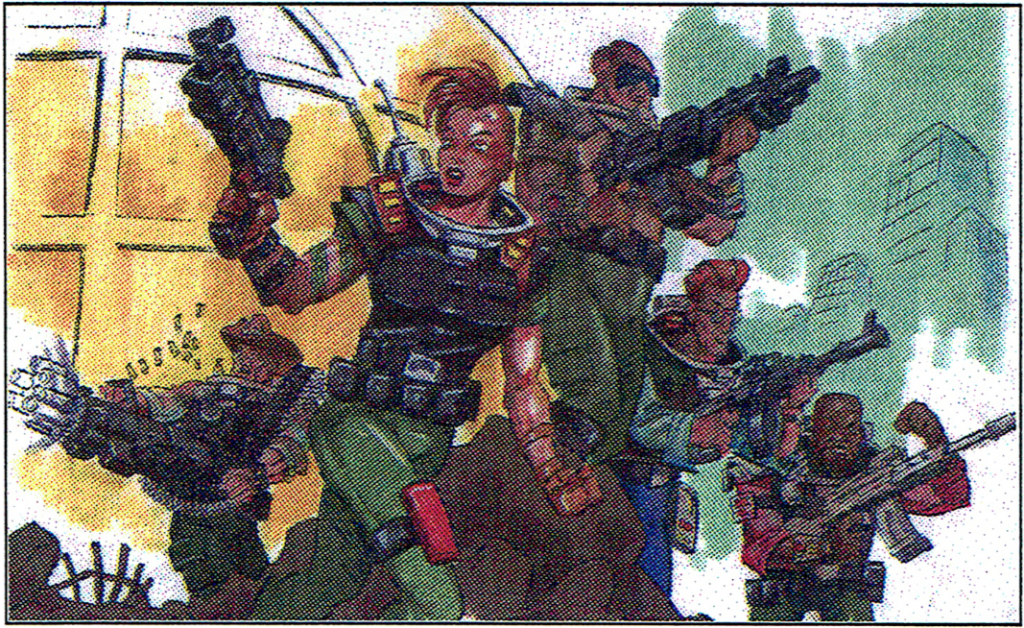 The scans can be downloaded here.
Special thanks to Rob Knaack and Stan Fukuoka for providing help in researching these materials.
Game Details
On September 6th, 1989, 22-year-old Bart Everson was arrested for streaking across the Indiana University campus, wearing nothing but a mohawk and a pair of sneakers. "Take off your clothes!" He shouted. "This is what college is all about!"
Indiana police sentenced Everson to forty hours of community service at Bloomington Community Access Television. It was here where he discovered how to quickly and efficiently produce public access shows, culminating in the creation of ROX — an independent television series hosted by him and bartender Joe Nickell. The first episode would air on July 7th, 1992, filmed entirely in a basement and aired to a quiet Bloomington audience. As the creators became more ambitious, tapes would get aired in public access channels across America; in April 1995, ROX became the first television show distributed via the web.
When it came to ROX, you never knew what you were going to get. One episode would tell you the best way to defrost your freezer; the next would be a semi-serious interview with Noam Chomsky. The seventieth episode of ROX ("Head Jobz") would air on October 15th, 1994. In this episode, Everson and Nickell are searching for a "real" job, interviewing many larger-than-life people. We meet Terry Whitefeather, a self-proclaimed Christian wizard; David Baker, a baker named Baker who works at a bakery; and most importantly for us, 24-year-old James Theodore Reichert, a programmer at the newly-formed Sega Midwest Studio.  
To our knowledge, this episode of ROX gives us the only inside-look at Sega Midwest we'll ever get — as well as the only known footage of one of their cancelled projects: the short-lived Sega 32X game Aftershock.
Looking to increase their consumer games output, Sega started its Midwest division on October 1st, 1992, in Northbrook, Illinois. Joseph Robbins — a renowned Chicago business figure who was formerly a high level executive at Empire Distributing, Atari Inc, and Sunsoft of America — was tasked with overseeing production at Sega Midwest. Robbins had worked with Sega as far back as the 1960s and was good friends with then-president and CEO Hayao Nakayama, so the decision to put him in charge made sense.
Although Sega Midwest was first instructed to develop Genesis software, they soon expanded to making prototypes for the 32X add-on. The first prototype — led by programmer Rob Knackk and producer Craig Erickson — was a shooting game called Black Angel starring a person of African American ethnicity in a fighter jet. Although the game had a complete storyboard and a rudimentary flying engine, production was pushed aside as Sega wanted the division to focus on a sports game instead. The result of this was NHL All-Star Hockey '95, released for the Genesis in February 1995.
Shortly after All-Star Hockey wrapped production circa August 1994, Sega Midwest returned to the 32X — this time with two separate teams. One team continued producing Black Angel while the other began on a new concept: a dark, futuristic action game known as Aftershock, intended as a competitor against titles like Battletech and Electronic Arts' Strike trilogy.
Sega of America's management was impressed with their pitch, as the added art and story gave the game a clearer vision. Stan Fukuoka — a layout artist on shows like Tiny Toon Adventures and Animaniacs — supplied most of the illustrations; MacVenture alumnus Kurt Nelson penned the script. The original story from the pitch document by Nelson is nearly three pages long, so we tried our best to summarize it:
Los Angeles, circa 2020. Only a small group of nations have survived the severe economic collapse following the oil wars of the 1990s. Metropolitan areas have dissolved into chaos as people fight for food, clothing, and shelter. However, thanks to the efforts of Dr. Alexia Merritt and her biosphere, the city of LA is safe — or is it? A group of violent gangs led by Detective Charlie Hopper is still running rampant, so Dr. Meritt's group unleashes the Lethal Assault and Strategic Termination Squad (or "LAST") to combat them.

LAST is triumphant, and dozens of gang members — Hopper included — are locked up deep underground. Los Angeles is finally at peace — or IS it? A series of earthquakes creates a breach in the dome, causing most of the population to undergo a series of horrible mutations. A mutant Charlie Hopper has come back with a vengeance, and he's leading his band of misfits to Dr. Meritt's headquarters. Once again, it's up to LAST to save the day.
On programming were Knaack and Reichert; on art there was Fukuoka, Jim Rohn, Denise Wallner, and Kevin Loza; and the design was staffed by Reichert, Dave Davis, and Tim Gerritsen. All programming would be written in C and 80386 assembly language using early Sega devkits; the art would be handled in 3D Studio and Animator Pro.
Aftershock was an isometric game, a perspective that struggled to show off the 3D capabilities of the 32X. According to Tim Gerritsen in Ken Horowitz's book Playing at the Next Level, the lack of custom 2D hardware on the add-on made development difficult, so standard Genesis systems were used for essentially everything but sprite handling. Still, the scope of Aftershock was far too grandiose, and the short lifespan of the 32X gave the team no time to search for alternatives. 
By this time, Joe Robbins had left the division to join Sega Gaming Technology, overseeing the production of Sega's slot machines in Las Vegas. Joe's son Richard Robbins — who had been the producer on All-Star Hockey — would continue as executive producer, but his reign wouldn't last long. In late 1994, right before leaving on vacation, Robbins informed Gerritsen that Sega could be shutting down their Midwest division. If anything were to happen, Gerritsen needed to call Robbins immediately.
On December 28th, 1994, just three days after Christmas, Robbins' phone rang blaringly. On the other end was Gerritsen.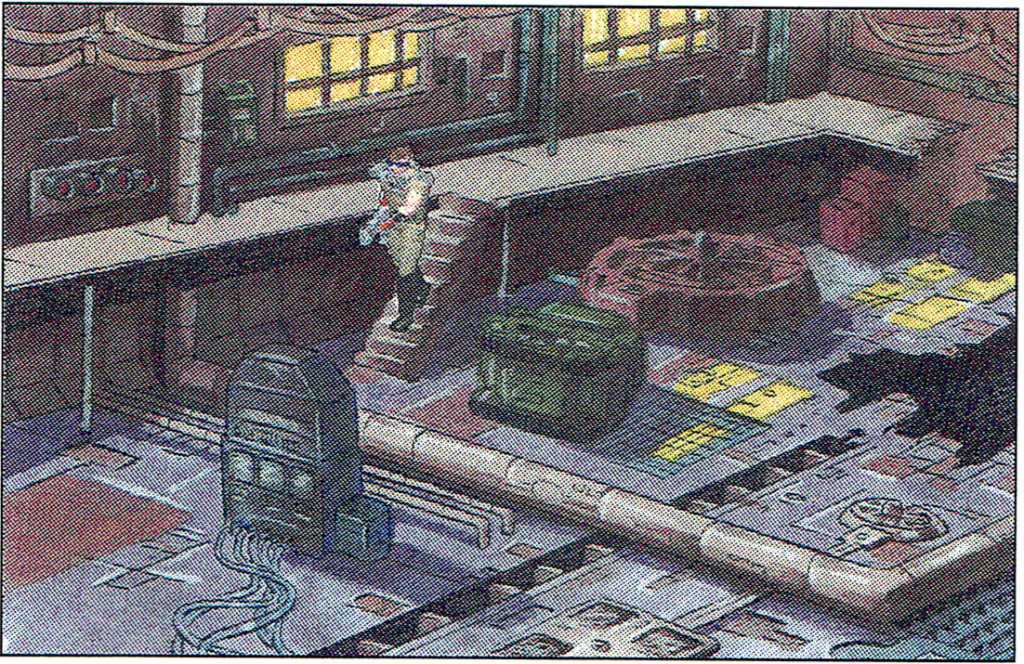 Sega Midwest would close its doors in January 1995. Aftershock and Black Angel —  the latter of which had been temporarily moved to the Sega CD — were cancelled. Although the artists and programmers were offered jobs at Sega's California office, most decided to stay in Illinois. Stan Fukuoka, Kevin Loza, and Denise Wallner would leave to join the art department at Capcom's coin-op division; Rob Knaack and James Reichert joined Magnet Interactive as the lead programmers on the unreleased Hellraiser: Virtual Hell for the PC. In addition to the 10-second Aftershock clip from ROX, at least three copies of the game's pitch proposal are known to exist — one of which is being presented to you now by the folks at Gaming Alexandria. 
"Looking back over the documents, [Aftershock is] still a game that looks like fun." James Reichert told GDRI in August 2008. "But as with anything from the 90s, perhaps it's best left in the past!"
Scans
Download the scans here.
Thanks once again to Stan Fukuoka and Rob Knaack, whose contributions made this release possible!