Here is a prototype build of Speedster II, a driving game developed by L4 Software for Carousel International. Although the game got developed on Atari Jaguar hardware, it was intended as a kiddie ride you'd see outside a local supermarket.
As demonstrated below by fellow researcher Kevin Bunch, Speedster II can run on an actual Atari Jaguar. Given its target demographic of very young children, the game is quite simple. You drive down a straight road, avoiding traffic cones and, uh, cow dung. After a few minutes, you arrive at a parking lot. That's it. A few good minutes of fun—nothing more, nothing less.
The ROM can be downloaded here.
Special thanks to Kevin Bunch and Kate Willaert for providing help in researching these materials.
Game Details
Founded in St. Louis, Missouri, in 1968 by businessman Norwood Veatch Sr., Carousel International was one of the first major players in the kiddie ride industry. Their trademark merry-go-round cabinets were their big initial success, with Carousel executives claiming it single-handedly upped the market from dimes to quarters. Merry-go-rounds were always their top priority (see: company name), but other kiddie rides would make their way onto storefronts. Popular models included Sammy-Saurus, the loveable riding dinosaur; Skycopter, a replica police helicopter; and Speedster, a racecar with an LED dash panel and a noisy toy horn. 
By the mid-90s, Carousel had become a well-established name. The company had moved to the city of Eldon and was now operating out of an 80,000 sq. ft. factory. Norwood's grandsons Brad and Steven would join the family business as VP of Operations and sales manager, respectively. Carousel was now working with establishments like Walmart, Chuck E. Cheese, and K-Mart. The kiddie ride industry was getting bigger, but with that came problems. "While revenues have grown, so have expenses." Veatch told Play Meter magazine in March 1994. "Traditional rides, like the western horse, will always be popular with children. However, history has a way of repeating itself, and rides will cost more to buy and operate, requiring a higher price per play. Much like in 1968, it will take innovative products to effect a change."
To adapt to 90s standards, Carousel had to come up with new, high-tech rides. They had a plan to incorporate video screens on their models, and it started by purchasing hardware from one of gaming's biggest names.
1995 was not the best year for Atari. Sales of their 64-bit Jaguar were substantially below the company's expectations. A $100 price drop got done to compete against the Sega Saturn and PSX, but it did little to help sell the remaining stock. According to their annual report, Atari reported a loss of $49.6 million the whole year—roughly 55% of that money got lost during the last three months. Atari tried to sell as many Jaguar units as possible, so the approach by Carousel was a stroke of luck.
Carousel's first Jaguar projects were sequels to their Speedster and Skycopter rides. Mario Perdue, a programmer at Indiana-based developer L4 Software, got contracted to do the games. Perdue had previously worked with the Jaguar on the Breakout update Breakout 2000, so he was familiar with the hardware. According to Perdue, Speedster II got completed on December 5, 1995; Skycopter II got completed shortly after. There are conflicting arguments on whether these rides were released or not. While most sources claim the sequels saw a limited release, some speculate that Carousel scrapped the project due to the Jaguar's reliably in wet or hot environments. Only one photo for each ride is known to exist, and they both come directly from Mario himself. Carousel sales manager Steven Veatch briefly mentions Speedster II in a 2013 interview with St. Louis Magazine, further adding weight to the theory that the ride released. It's hard to know for sure.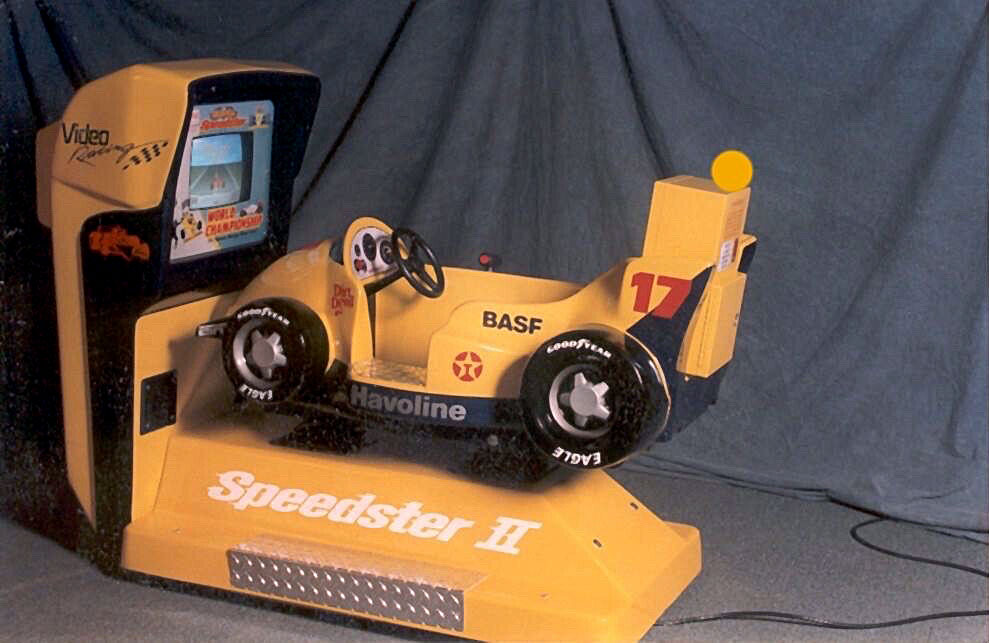 Shortly after, Mario Perdue made a third, original game for Carousel—a Star Raiders-inspired game called SpaceGuy. Although it got finished, a cabinet would never get manufactured. Carousel Internation would continue producing kiddie rides for the next ten years. Following deaths in the family and decline in store chains like KMart, Carousel would close its doors in June 2007.
In 2001, a single prototype of Speedster II got salvaged from a shipment of Jaguar cartridges. It would soon sell on eBay and get brought by the website atarihq.com for $350. While the ROM wasn't made available, reproductions got passed around among Atari collectors—it was only a matter of time until it went public.
Download
The ROM can be downloaded here.