Yet another version of Hudson Soft's Mario Bros. Special has been preserved and this time it's for the NEC PC-8001! This version wasn't even previously known to exist for sure but luckily an auction recently popped up and we managed to win it. If you'd like to read up more details on what exactly Mario Bros. Special is please check out this site.
The tape came with the original insert of instructions but no cover or box. There was a makeshift cover somebody created from a cutout of a magazine ad that was included but this was definitely not official. I can't imagine this release doesn't have a box as all the other versions do. If anybody out there has a scan they'd be willing to contribute please let us know.
The tape luckily was still in good shape and recordings of both sides were good on the first try. While the WAV files can't be ran in an emulator they could in theory still be run on actual hardware so I have included them in the download links below. DumpListEditor was used to convert it to a working .t88 file that can be loaded in a PC-8001 emulator.
To emulate the game we recommend using the PC-8001 emulator included in the Neo Kobe Emulator Pack you can download here. Once you have unzipped that navigate to the NEC PC-8001\j80_r6b38 folder within and run _j80_choice.bat and type in 2. The emulator should then load and you'll need to select Tape along the top bar and click Player. From there load the Mario Bros. Special.t88 file. Next you'll type in CLOAD "*" and hit enter. To type in the " you'll need to hit SHIFT and 2 on your keyboard together, to type the * you'll need to use the * key on your numpad. After this you'll type RUN and the game should load up.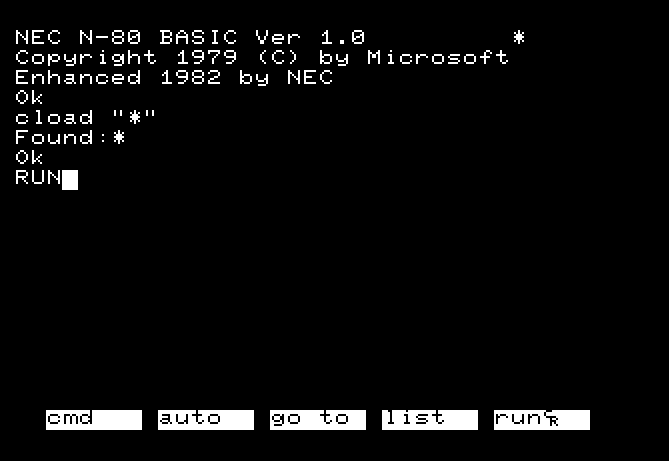 The controls on the game are simple, space allows you to jump and Numpad 1 makes you go left and Numpad 3 makes you go right. We hope you enjoy this rarity and we're glad another version of Mario Bros. Special is safely preserved!
Scans
Downloads
Mario Bros. Special – T88 ROM File
Mario Bros. Special – WAV Recordings
Mario Bros. Special – Readme File
Mario Bros. Special – Internet Archive External Link with Scans and Dump