Back in September 2017 Frank Cifaldi (VGHF) asked me if I could research the history behind an unreleased NES game called Dino-Hockey. The game was a project started by Sunsoft of America and developed by the Salt Lake City based studio Sculptured Software. By this time I had been researching the history of Sunsoft for a while, but I hadn't  really gotten around to looking into this cancelled game.
There was a ROM of an almost unplayable alpha version of the game. But on YouTube there was also a video of what looked like a version where you could actually play the game. I hadn't  been able to find this ROM, but it turned out Frank had obtained the prototype and dumped it. So, he sent it over which was useful as it's naturally more difficult to interview someone about a game if you haven't ever played it.
Screenshots borrowed from Hidden Palace 
I'll be honest, the prototype as it stands is not fun. It's  very much a product  of its time. Dinosaurs had peaked in pop culture in the late 80s and early 90s with TV shows like the sitcom Dinosaurs as well as cartoons  Denver: The Last Dinosaur and Dink: The Little Dinosaur. Dinosaurs playing hockey was somehow a very logical game to make in 1991.
Video: The early ROM
The game can be played by two players, with each team consisting of three dinosaurs and what looks like a Plesiosaur in the goal sticking its head up through a hole in the ice. The puck is a turtle shell. In the prototype you can only play in 2-player mode, but in the ROM the graphics for the numbers for player 3 and 4 can be found. So, it was apparently planned to allow up to four players.
The game was hardly mentioned by the press at the time. It was briefly mentioned in the September 1991 issue of GamePro: "OK, you know what dinosaurs are and you know what ice hockey is, but do you know what Dino-Hockey is? If you haven't already guessed it's dinosaurs playing ice hockey. Guess it was the best thing they could do once the ice age rolled around! Available '91". Besides that there is very little information to find online.
So I had to talk to the people that worked on the game. Frank gave me the name of Jay Moon. I had seen his name in the credits for some Sunsoft games but had never really figured out what Jay's role at Sunsoft of America had been. His title at Sunsoft was Software Development Manager. And Jay was really James, who went by J, but it was often written as Jay. Frank got me in contact with Jay via email in September 2017 and Jay told me to call him when I wanted to talk. I got busy and didn't reach out to Jay until November. But Jay did not answer. So, I decided to wait.
In the middle of March of 2018 I got an answer from Jay's email. It turned out it was his wife answering. he told me Jay was in bad health and would probably not be able to answer any questions. Jay then passed away in late April of 2018. It was sad that I no longer could get Jay's information about Dino-Hockey or get to chronicle his career at Sunsoft and later at Iguana Entertainment. Jay was also one of the founding members of GamePro Magazine and briefly worked at Retro Studios before retiring.
The early ROM was dumped on July 21, 2013 and the more complete ROM was dumped in 2017. The later ROM is dated December 18, 1990. It's hard to say exactly when the game was cancelled. It was as I said mentioned in the September 1991 issue of GamePro, nine months after the later ROM was made. The game could have been  more or less complete by then. Jay briefly talked about the game in an interview for the book Memoirs of a Virtual Caveman. "Dino-Hockey was my baby. It was being developed by Sculptured Software in Utah, not Japan. When I left Sunsoft, Yoshida wanted me to finish the game for them. However, we could not negotiate a price so they killed the game", Jay says in the book. (Kiharu Yoshida was the head of Sunsoft's Japanese operations at the time and the founder of the game development division at Sun Electronics in 1978).
The next step was to figure out who else at Sculptured Software had worked on the game. I looked at the company's games at the time and figured out that it would be best to contact people who worked on their other NES games that were developed around the same time as Dino-Hockey. Who had come up with this idea for a hockey game with dinosaurs? Was it someone at Sunsoft of America or someone at Sculptured Software? Jay said it was his "baby", so I thought he might have come up with the original concept.
At the moment of writing this I haven't gotten any answers from anyone who worked on the game. So I really didn't have much to say about how Dino-Hockey came to be and it's development. I know it was programmed by Peter Ward, who answered my first request for an interview and confirmed working on Dino-Hockey. He also worked on Robin Hood: Prince of Thieves for the NES and it's unreleased predecessor Legend of Robin Hood. Ward's most famous work is the Super Star Wars trilogy, on which he was a programmer. If I had looked in the right place from the start I would have known that the music and pause sound effect in the early Dino-Hockey prototype are the exact same as in Prince of Thieves. Which connects that team with Dino-Hockey.
A New Discovery 
So here I was at a dead end with Dino Hockey with nothing really to write about it. Meanwhile I was doing my Sunsoft research and stumbled upon a story of two unreleased arcade games. Developed internally at Sunsoft of America. Totally unknown to the world. So, I thought I would write an article about that instead.
Sunsoft of America had started out not just distributing Sunsoft's console games, they  also distributed arcade games from other Japanese companies. The company was formed when Sun Electronics (Sunsoft's parent company) bought Joseph "Joe" Robbins' company Kitkorp in 1986. Joe Robbins had worked in the coin-op industry most of his life and his son Richard also wanted the company to stay in that part of the video game business. Kitkorp became Sun Corporation of America (more often referred to as Sunsoft of America) and at first they continued what Kitkorp had already been doing, and in addition also started distributing Sunsoft games.
By 1987 most of the Japanese developers had started their own American subsidiaries so they could distribute their arcade games themselves. As a result there were few arcade games left for Sunsoft of America to sell. The solution would be to start their own development team. "So, if we wanted to remain in the US coin business, we had to develop our own games", Richard Robbins tells me.
Sometime in 1989 Richard hired former Bally Midway employee Howard Shere to lead the development. Shere had started out as a software programmer for pinball games (Black Belt, Strange Science among others) at Bally and later co-developed the arcade game Xenophobe with Brian Colin in 1987. Shere left Bally Midway in 1988 when Williams Electronic Games bought the company. "When Williams bought Bally, I decided I didn't want to do the commute into Chicago and started looking for a job", tells me.
At Sunsoft Shere and Richard Robbins started hiring more people for the team. Among the first was programmer, Ken Picha, who had worked on the Commodore 64 game Willow earlier that year. Next they put an ad in the Chicago Sun-Times for artists. The first artist to be hired was Todd M. Papaleo. "I was the first of three artists to be hired, and along with Howard Shere, the programmer, was one of the primary designers of a game that would come to be called Doomwalkers", Papaleo tells me.
Because of the good relationship Joe Robbins and Sun Deshi with Sega's president Hayao Nakayama they were offered to develop for Sega's System 16b arcade board. Sunsoft in Japan was also developing two games for the System 16b (Bay•Route and Tough Turf, both released in 1989 and published by Sega). "We actually designed two games after looking at some custom Sega hardware for arcades which did some interesting hardware scaling. One was a mech themed game where you went around fighting each other and destroying the landscape and the other was a boxing game", Shere says.
The First Game
The first unreleased game that I discovered was called Doomwalkers. Doomwalkers was a single player arcade game in which the player would control a walking tank. From a top down perspective the the walking tank would shoot, kick and stomp enemies along the way.
The team working on Doomwalkers consisted of Howard Shere (programming), Todd Papaleo (character/enemy artist), Stan Fukuoka (background artist), Michael Aieta (composing/sound programming) with some additional programming by Ken Picha. Picha also led another team that worked on another game. Artist on this game were Tony Sherman and Ike Hobbs. Sound programming was done by Michael Aieta, with and additional programming by Patrick Costello.
Todd Papaleo explained the gameplay, "The view of the game was top-down, similar to Xevious. Some key aspects of the game mechanics were the player's ability to jump over things or drop down into holes which would lead to a different level". The player would walk upwards with the walking tank. Shooting, kicking and stomping enemies on the way. The game was a 1-player game.
The jumping ability would become one of the key features of the game. The scaling capabilities of the System 16b board would let them have the tank jump and get bigger as it looked like it came closer to the camera when the sprite scaled up. But this also became one of the difficulties of the development, "It quickly became obvious that merely scaling the 32×32 sprite would create an ugly, blocky-looking thing. No one was a big fan of that. Our Japanese owners would check in every once in a while, and see how the game was going – they would see this 32×32 sprite scaled up to probably 128×128 and ask if the game was broken", Papaleo tells me.
They also struggled with the perspective of the game, Todd Papaleo tells me the top-down view made it hard to design enemies and characters that would be recognizable. "We also wanted to change the view of the game in certain areas, to keep the game interesting. For instance, in some areas you would be down on the ground and walk into a silo, which you would be able to walk up the walls of the silo and fight attackers. During this, you would be able to see the tank from the front or the back, depending on whether you were going up or down the silo", Todd says.
As seen in these concept drawings Todd sent me, the game was much about firing different weapons, kicking and stomping enemies.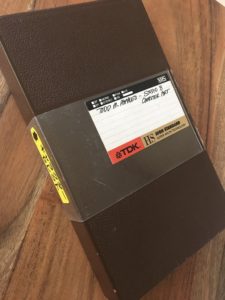 And here is the only surviving footage of the game showing some animations and graphics. A list of what it shown can be seen in the YouTube description for the video. The footage is shot with a VHS camera on the screen in 1989. The software used to make the games graphics was Studio 8 and Videoworks.
The Second Game
Shere then told me about their second unreleased game and that it had was a boxing game with aliens or dinosaurs. When I brought it up to Pat Costello a couple of days later, he told me that the game was called Dino-Hockey. I was amazed! The NES game now seemed to be a port of this cancelled arcade game. Pat also told me he had come up with the idea of the puck being a turtle. The puck in the NES game is also turtle. So, the connection could not be clearer.
Since I haven't spoken to anyone who worked on the NES game my assumption is that when the arcade game was cancelled and the team was fired (more about that later), Jay Moon,  somehow got to take this concept and hire Sculptured Software to make it into a NES game.
Ken Picha, the programmer and designer of the game, then described it for me. "I was influenced initially to create dinosaur hockey partly because of an early Microlab game called Dino Eggs, and also because I actually play amateur hockey, and have been doing so for most of my life". (Dino Eggs is a 1983 game released for the Apple II, Commodore 64 and PC. The player needs to save dinosaur eggs from European Measles that he accidentally brought back in time.)
Dino-Hockey on the other hand is naturally about dinosaurs playing hockey. And even if it seems to have been similar to the NES games it had more features and graphical detail. The Sega System 16 arcade board had been used as the base for Sega's home console Mega Drive (Genesis) released in 1988. A console far more powerful than the NES. And the arcade board is more powerful than the console. So Picha could put far more detail into his 16-bit game.
The game had two referees and two linesmen skating around. They were also obstacles that the player needed to take into consideration. The first version of the referees were bears on skates. You could also disable off-sides and icing calls. The game was to have a large button marked "Play dirty". This of course also meant the game would have penalties. I was told that Sunsoft's Al Artus was "heavily involved" in the creation of the rotary joystick interface that was going to be used. Artist Ike Hobbs was responsible for the rink graphics. The game was played in a diagonal over-head view, unlike the more side-view of the NES game. But not top-down as Doomwalkers. "You could see the stands, and we had a lot going on with the audience", Picha explains.
In most arcade games it's easy to have a point when the player needs to put in a coin to continue playing, usually when the player dies. In a sports game it's a bit harder to have this natural breaking point. Ken Picha explains: "Even fights would break out, and you could see pterodactyls flying around in the sky. Howard came up with a great idea. Prior to Sunsoft, I didn't have a lot of experience in the coin-op part of the gaming industry. In coin-op, you have to give a lot of thought to how you are going to extract that next coin from the user. Howard's idea was to have an injury occur whenever it was time for another coin. Trainers would come out and tend to the injured player, and eventually stretcher the player off of the rink. That sequence was used to give the user a typical coin-op allotment of time to feed in another coin, otherwise the game would end. Of course, we kept track of all kinds of stats, and since the Sega machine was disk based, that gave us all kinds of new capabilities in that area". It seems like Dino-Hockey could have been a fun arcade hockey game with lots of features.
In one of the artists LinkedIn profile I read the title Steel Gods as a game that he had worked on. So I asked him about it. Basically, they changed the theme of Dino-Hockey not long before the game was cancelled. Instead of just dinosaurs the teams would now consist of all kinds of large monsters and godlike creatures.
There is unfortunately no material saved from Dino-Hockey, no concept art, no graphics or video. Ken tells me that the artists would probably have printed out lots of the graphics if they had had a printer in the office. So, the only part saved is the statements of the development team.
Why were these two games cancelled? I haven't really come to a definitive answer. At the time of the cancellation Sunsoft of America's new president Yoshinori Homma had decided to move the company from Illinois to California. Most of the staff were offered to come along, some decided to not make the move and some never got the chance to do so. Most of the development team was fired. Ken Picha tells me he was offered a position at the new location but turned it down since he did not want to leave Illinois.
The first hint I got of the development team was when interviewing Rita Zimmerer, who worked in marketing at the time but later became vice president of Sunsoft of America. She told me: "There were a group of guys and they were in a backroom somewhere on the premise at Sunsoft in Illinois. And I was told "Well they are going to go in a couple of months"". She guessed that Homma didn't want some project started under the former president. Maybe they felt that the games were not coming along as they should. The games had been under development for 18 months when they were cancelled.
One and a half years was a long time for a game back then. Sunsoft had been used to making games in 6 to 12 months for the NES. Both the System 16b games developed at Sunsoft in Japan (Bay*Route and Tough Turf) had almost definitely been finished in less than 18 months. But the Japanese teams probably consisted of more experienced developers compared to the US team where most of the staff was working on their first games. Todd Papaleo also thinks the long development time might have killed the games, "A few months later, Japan decided to close down our division and stop production on Doomwalkers and all the other titles. We probably weren't moving quickly enough on it, but also it was only three guys working on it". It's sad that we never will see what was stored on the HP 7000 workstations that were used to make the games.
Most people didn't know that Sunsoft of America actually had worked on games, but there were a couple of hints. Both Howard Shere and Todd Papaleo had been interviewed for the Sunsoft Game Time News newsletter, where Papaleo mentioned working on an arcade game, "See, I was hired in late October, at the start of a Sunsoft arcade-game project", and Shere was a bit more secretive with a "A better and more original game, what else? No, really – it's a secret".
Sunsoft's Michael Mendheim was also involved in the design of Dino-Hockey, but to what extent I do not know. Mendheim had co-designed Fester's Quest and Freedom Force with Richard Robbins in 1988 and would later go on to EA where he designed Mutant League Football.
During their time at Sunsoft, Ken Picha and Todd Papaleo also did some work on another game project, the Atari 7800 game Missing in Action. It was to be based on the movie series starring Chuck Norris. "In addition Richard asked me to manage the development of an Atari game based on the Missing in Action movies", Picha tells me. Todd Papaleo did the storyboard for the game. There is a prototype of the game available on the internet. It shows a pretty finished game. The actual development was done by Sculptured Software who later of course worked on the Dino-Hockey port for the NES. So there was already some relationship between the two companies before Dino-Hockey.
Artist Tony Sherman did some concepts for the NES game Gremlins 2. He came up with the games diagonal over-head view of the game and got to go to the set of the movie where they met the producer and Gremlins designer, special effects guy Rick Baker. "I felt a top down game would work for crawling around the clamp tower. Sunsoft had done Master Blaster and that was top down. Talked with our group back home and ideas were sent to Japan. Our department got closed down about a month later", says Sherman.
And this was the last internal game development at Sunsoft of America. According to Rita Zimmerer she wanted to have internal development in the 16-bit era instead of just hiring other studios. But those ideas never came to fruition. Sunsoft of America was shut down in early 1995. Letting most staff off and only keeping some administration that worked with transitioning ongoing game projects to Acclaim.
After Sunsoft
After getting fired from Sunsoft Howard Shere went on to design the games Spectre Supreme (1993) and Spectre VR (1993) at Green Dragon Creations, Inc., and has a "Thanks" credit on Lion Entertainment's Macintosh port of Quake.
Todd Papaleo went to ICOM Simulations were he first worked on some TurboGrafx-16 games (Yo, Bro (1991, artwork), The Addams Family (1991, pixel placer)). He then got back to working with Sunsoft games when ICOM Simulations was hired to port Batman: Return of the Joker for the Super Nintendo. Todd was character artist on the game. The game ultimately got cancelled. He also worked on Daffy Duck: The Marvin Missions for Sunsoft performing multiple roles, as a producer, additional game designer, art director and doing animations. So at least one of the team members got to finish a game for Sunsoft.
Patrick Costello, Tony Sherman and Stan Fukuoka all worked at Incredible Technologies. Sherman and Fukuoka both worked on the arcade game Ninja Clowns (1991) and Sherman did art on American Gladiators (1991) for the NES. Sherman went to Viacom New Media after that working on Are You Afraid of the Dark? The Tale of Orpheo's Curse (1995), doing design and art. Doing art on the game was also Todd Papaleo.
---
A special thanks to Wietse van Bruggen and Dustin Hubbard for corrections and editing.