It's a well-established fact that video games and politics aren't really the best of combinations. To this day video games are still given the partial blame for problems in today's youth, and it has been that way for years. You'd assume that people would try and work out their differences with each other, a few have but with varying degrees of success.
As crazy as it sounds, some of them weren't even people. Some were, say, a cartoon chicken. And by some I mean only one, and by one I mean the almighty Alfred Chicken.
Alfred Chicken, presumably a pun on Chicken Alfredo, was a Commodore Amiga title designed by Jason McGann and Peter Tattersall in 1993. The game follows the titular Alfred, whose girlfriend has been kidnapped by the evil Meka Chickens for a cloning experiment. Alfred must fight through many bizarre levels to stop the Meka Chickens for once and for all.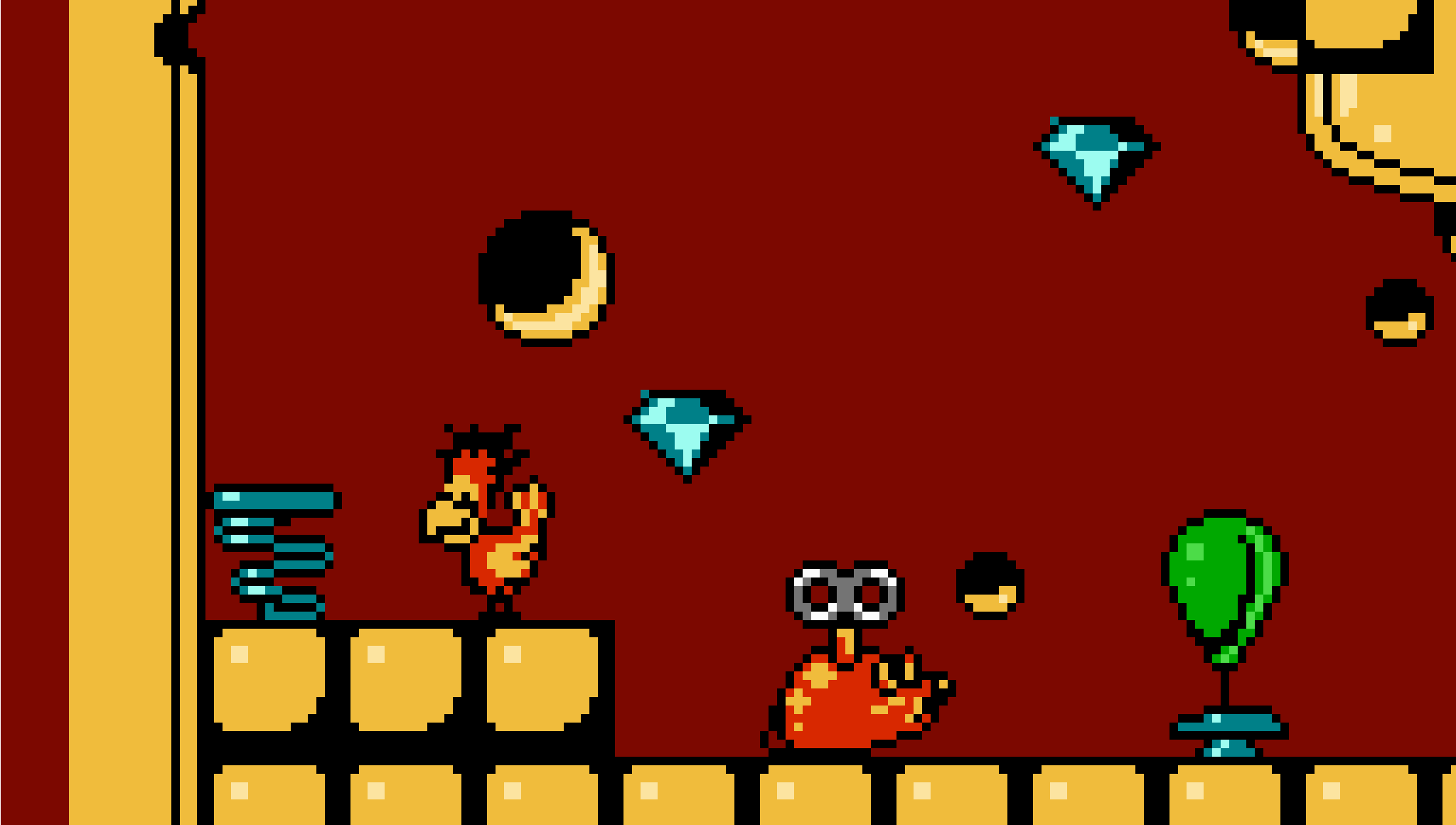 Alfred Chicken's development started around the end of 1992. The first public preview of the game was at the European Computer Trade Show in 1993, with a presenter in a large fluffy Alfred costume presenting himself along with the game. It was only a short demo at the time, with only one level, no sound effects and a different colour pallet than the final release. Another demo of a conversion for the Nintendo Game Boy was also shown. Alfred Chicken was previewed in the June 1993 issue of UK magazine GamesMaster, who praised it for its unique and wacky style.
Release was set for the following month. Jason and Peter have developed 11 levels for the game in that period, and everything was being finished at a proper rate. The one thing they still needed was marketing stunt to help boost sales, and Mindscape (the planned publishers for Alfred Chicken) were tasked to create one.
Alfred Chicken Goes To Washington
In 1993, Mindscape had hired designer Karl Fitzhugh as a product manager for their UK branch. It is unclear as too how much experience Karl has previously had in product management, but if his MobyGames profile is correct, Karl had only marketed one other game before being hired at Mindscape.
His first duty? To market the up and coming release of Alfred Chicken for the Amiga.
Karl's marketing ploy needed to be something that would be getting the press to talk, and so his plan was fairly simple. Karl would dress up in the human-sized Alfred Chicken suit from the ECTS show, form a political party with the help of Mindscape, and run for governor in an upcoming by-election in Christchurch, Dorset. This election was due to the sudden passing of Conservative MP Robert Adley in May of that year.
The election was planned for July. Mindscape quickly casted themselves in as 'The Alfred Chicken Party' with the minuscule sum of £500 (the standard deposit each prospective parliament candidate has to pay in the UK), with their promise to 'protect the rights of all video game chickens.'
Voting was held on July 26th, and The Alfred Chicken Party was expecting their loss in the election. In the end, 53,530 votes were cast in total, with Diana Maddock (running for the Liberal Democratic Party) being elected at a staggering 33,164 votes, one of the largest-ever swings against a sitting party. It was a shock to many, as the UK Conservative Party (ran by Robert Hayward) was expected to win instead, but fell behind with only 16,737 votes.
"Christchurch was the place where the difference between the Tories and the Alfred Chicken Party was that members of the Alfred Chicken Party ran around with their heads still on."

– Political journalist Philip Goldenberg, in response to the UK Conservative Party losing the by-election.
The Alfred Chicken Party on the other hand? It only got 18 votes.
Hilariously, The Alfred Chicken Party didn't even get last place in the election. That accolade went to John Walley, who campaigned The Rainbow Alliance, a group who's goal was too advocate the abolition of Parliament altogether. The Rainbow Alliance fell behind by only 2 votes, gaining only 16.
The Reception
It's hard to say whether the Alfred Chicken campaign was a success or not, depending on how you look at it. On the political side, it was an obvious flop that ended up a expected. Jokey political parties happen yearly in the UK and this wasn't anything new.  Interestingly enough, The Alfred Chicken Party partially helped change the UK political process as we know it, as it was cited (along with a few other jokey political campaigns) as a reason to increase the number of signatures required for someone to be nominated as a candidate in a UK election.
Meanwhile, the gaming press absolutely loved the campaign. The January 1994 issue of CU Amiga awarded it as the Best Marketing Stunt Of 1993, saying that Mindscape had pulled off one the best and funniest marketing stunts they've seen for the Amiga.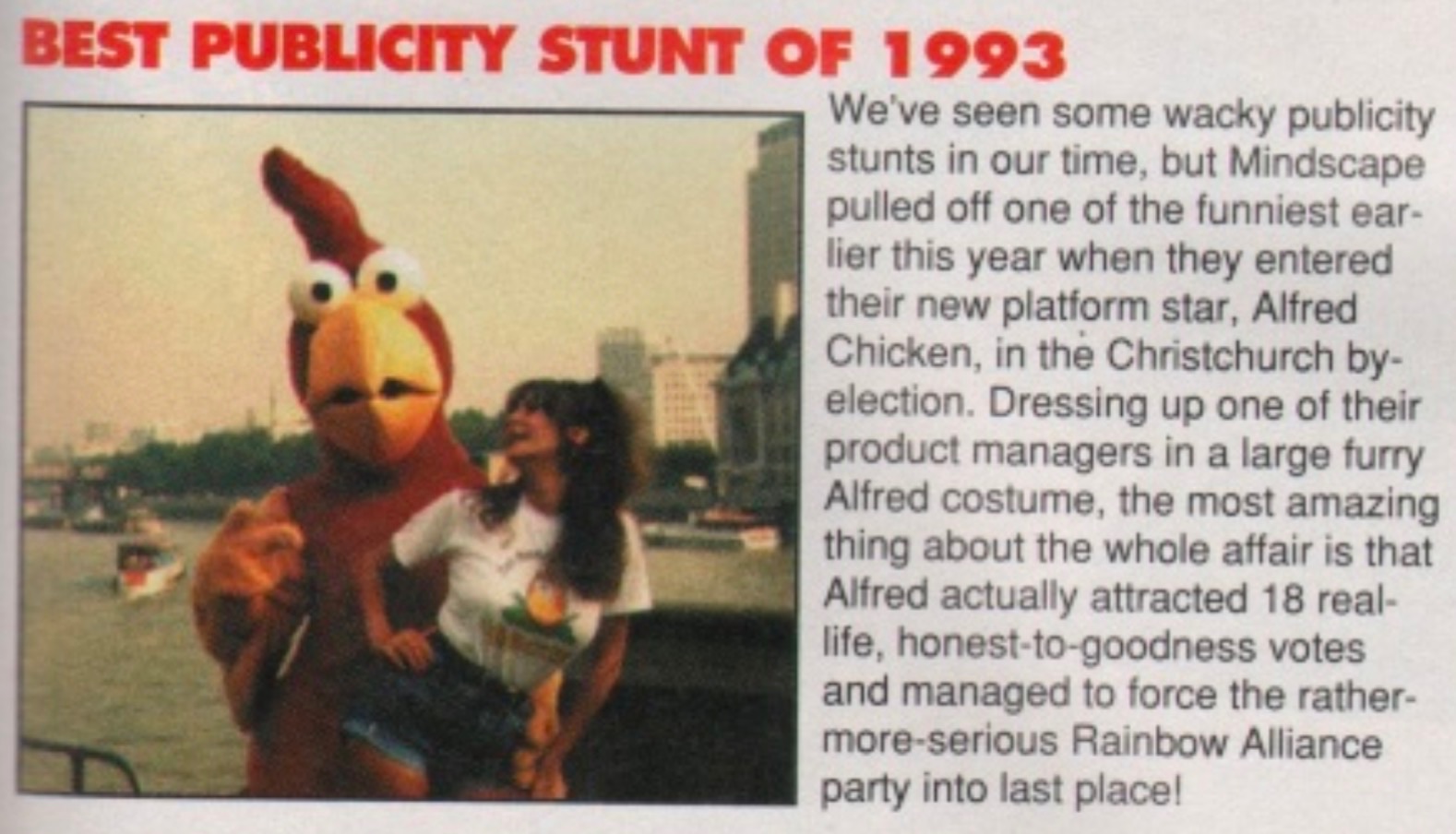 However, there were some more darker sides to this campaign. An earlier issue of CU Amiga from September 1993 reported news from a major UK tabloid (possibly The Sun) that Mindscape never actually paid the £500 to form the campaign, and instead took advantage of the taxpayer's money to get a campaign for free. James Morris, Mindscape's PR manager, claims that this wasn't not true in the slightest.
"That was a false claim," James says. "We didn't need used those facilities. All we did was have a bit of fun and justified our whole standing by receiving 18 votes".
It's impossible to confirm whether this is true or not, but signs mostly point towards this being fake news created to stir up controversy given James' statement. Poor ol' Alfred.
After the by-election was concluded, Karl Fitzhugh had another, much smaller plan to market the franchise. A revamped version for the Super Nintendo entitled Super Alfred Chicken was planned for release in 1994, and as a way to market the release, a toll-free number was set up for players to ring in and listen to Alfred himself. By dialing 1-800-ALFREDC, the following message would come up:
(Bwak Bwak!)

This is Alfred! Alfred Chicken! Super Alfred Chicken! Thanks for calling, and I'm coming  really soon! Really soon! Like the end of March I'll be in every toy store, every department store, every cool place where they sell Nintendo games! And I won't bust on Super Nintendo, and also on Nintendo and Game Boy!

I'm really cool, I'm very cool. Every magazine is talking about me. If you don't have me you aren't cool, so get me now! March 23rd you can find me!

(Bwak Bwak!)

Alfred, help me find my girlfriend! Help me find the watering cans (That's a clue, kids! The watering cans) and look out for the Mousies!

(Bwak Bwak!)

Bye!
Conclusion
The Alfred Chicken Party was an event that could never happen again. It's a good example of the wackier side of politics and how people can exploit it for better or for worse. Was it a good idea? Was it a bad idea? Who really cares, it's all just good fun.
Karl Fitzhugh, the man behind the party, would continue working for Mindscape before departing with the company in September 1997 to join Electronic Arts. He now works as a senior designer for the company PaperSeven.
And as for Alfred, his franchise went quiet for a couple of years after the release of the Super Nintendo title. In 2002, Alfred's creators released a remake for the PS1 under their new company, Möbius Entertainment. The port was  well received but not enough to warrant a sequel.
Alfred Chicken has not been seen since.